This Is Going to be Mark Dantonio's Worst Michigan State Team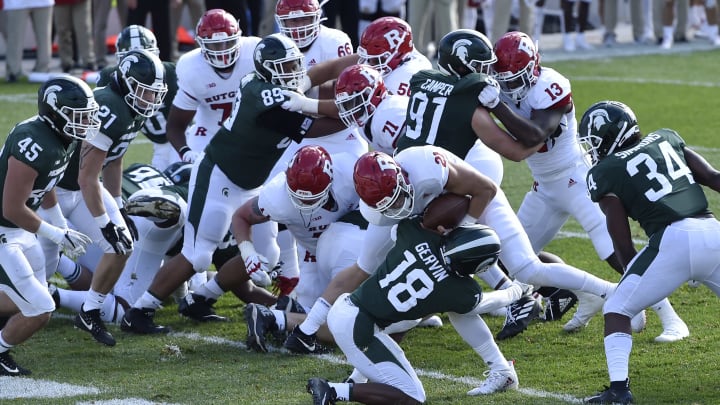 Quinn Harris/Getty Images
Michigan State turned the ball over with historic regularity during a season-opening debasement against Rutgers. Gifting seven giveaways is no recipe for success and overcoming such enormous Plaxico Burress-ing is a monumental effort. An uphill race. And the Spartans just don't have the horses to run it.
Mel Tucker is not to blame. He just got the job and is barely through orientation. Mark Dantonio, the man who earned himself a statue in East Lansing before going full pigeon and desecrating what he'd built, left far too late with a full gift basket. The irony here is that he did so after leaving the cupboards bare. Architect-turned-houseguest, Dantonio overstayed his welcome, living high on the good times with his buddies, insisting to everyone that they'd get around to fix that leaky roof one of these days.
He didn't. The hole only grew larger. And now people are going to blame Tucker for the flooding, ignoring that this whole job is a gut rehab, not something to be tackled and completed over a few weekends.
It is time MSU fans accept that hard reality. If not now, then when? Because getting thoroughly outplayed by the Scarlet Knights, who are 3-33 in their last 36 Big Ten contests, is bad. And this wasn't a fluke. Rutgers' defense looked like Alabama's against the run. Something long believed to be a core value of the Spartans was nowhere to be found. Greg Schiano (!) shut it down.
It actually makes fingers weary to type this, but it's worth considering that Michigan State is in a worse place than Rutgers. Consider Chris Ash, who didn't win football games but left the new regime with some competent athletes. Then consider Dantonio, handing over the keys to a burned-out car left on US-127.
Things are bleak. Look at the schedule and find where the wins — er — win is going to come from and why. This entire season is going to play out in front of Permanent Michael Scott Face. Halloween brings a Big House of haunting dread in Michigan. The Wolverines are a 26-point favorites over a brother who is suddenly looking little and still shrinking.
If this isn't rock bottom, will rock bottom come on the form of another thumping at the hands of Jim Harbaugh, who is chomping at the bit to outdo last year's 34-point trouncing? Or will rock bottom come later this year in the form of Ohio State putting up a U.S. Open first-round score?
The short answer, for optimistic and pessimistic Spartans alike, is that they'd better hope to god it comes soon. Because if rock bottom is still 14 or 21 months off, then it's going to be a brutal and program-eroding slog.
Tucker inherited huge problems that will take time and care to fix. He is not in possession of a permanent free pass, to be sure, but it's unrealistic to expect miracles out of the gate. Removing Dantonio from the equation went a long way to balance it, yet his stain will take several loads of laundry to fix. Balancing the wins and losses, for now, seems like a faraway goal.