Michigan State Couldn't Have Lost Any Harder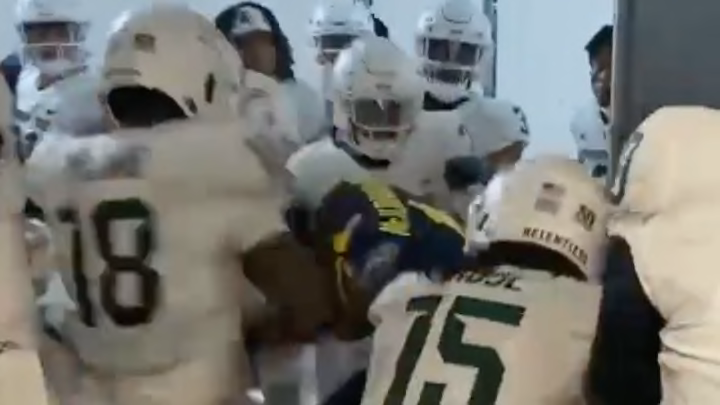 Michigan State showed precious little fight or aggression for three and a half hours on Saturday night in Ann Arbor as Jim Harbaugh notched his first victory over Mel Tucker. These two programs appear to be on diverging trajectories. One has reason for optimism, having made the College Football Playoff last year and currently carrying an undefeated victory while eyeballing a chance to make it two straight against Ohio State. The other has more questions than answers and are in danger of unraveling.
Things got worse optically for the Spartans in the one tunnel Michigan Stadium features during the postgame as two Wolverines players were involved in incidents with several Spartans. Video of whatever this was — a fight seems inaccurate and misleading — immediately went viral. It's extremely difficult to tell exactly what went on. However partisan you'd like to slice it, it appears some players crossed the line from normal pushing and shoving and helped themselves to free shots. When it's one-on-10, it's incumbent on the overwhelming party to resolve the incident without gratuitous and unnecessary overreaction.
Harbaugh and Michigan athletic director Warde Manuel were understandably pissed and local authorities are investigating alongside the Big Ten. Even as an unabashed MSU homer, the only reasonable conclusion to draw is that some sort of punishment is needed. Whatever proceeded the physicality is immaterial. So too is a less-than-ideal layout that puts opposing teams in such proximity with intensified emotions.
The loser energy is immense. Michigan was far more dominant than the 29-7 final score suggests and the coaching disparity was stark and embarrassing. This rivalry is extremely weird and has been dominated for a decade and a half by the less talented and revered program, yet it would take immense mental gymnastics to believe that is going to continue. Seeing this type of spirit would have been nice when it was allowed instead of when it's frowned upon.
People are overreacting when it comes to Tucker and his $95 million contract. These past two years should serve as a testament to how wildly the pendulum can swing in college football with unchecked free agency. Yet this team is lifeless and undisciplined between the hashmarks in addition to within hallways. It's earned every bit of criticism and jokes aimed in its direction.
Those who went home happy were also not on their best behavior as one Michigan supporter denied Tucker his dignity by treating him like an animal in a petting zoo.
Not a huge revelation or insight here, but all of this sucks. It mars one of the best rivalries out there that's at its best when everyone is tip-toeing the line without crossing it.
State lost in every imaginable way last night, only pretending to be strong when the fight wasn't fair. They find themselves at an unpleasant crossroads. We'll see how serious Tucker is by how serious he is in meting out proactive punishment and sending the message that this behavior is not acceptable. We'll see how serious he is if two grossly overmatched and dull coordinators return next year. Perhaps the best thing to do is to own the multiple L's and have them serve as a much-needed dose of reality and self-reflection.
I'm more optimistic than a lot of people, but damn, it's hard to find any shining light in these dark clouds.