Michigan Going Either 93 or 88 on the Freeway While Everyone Else Goes 73 or 71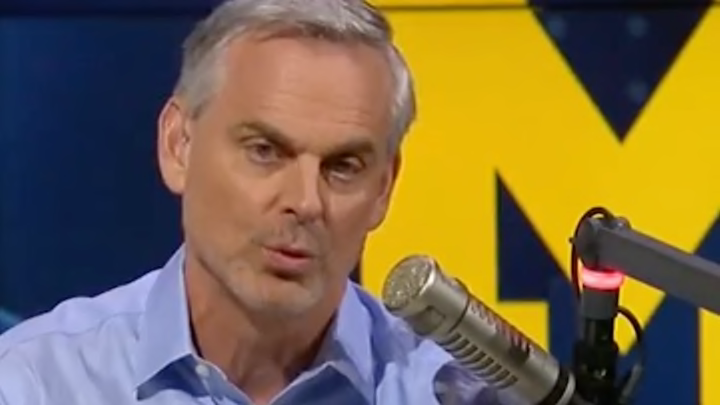 I think to contextualize just how wonderfully rich this Michigan sign-stealing soap opera has become, it's best to point out that I've long stopped enjoying it any level as a rival and have been delighted with each step more as an incredible story. The type of college football scandal that feels like a bit of a throwback and honestly, when it's all said and done, could be the most bizarre one since Manti Te'o to transcend to such a high level. Like, the latest twist and turn involves a crowded front porch stuffed to the gills with vacuum cleaners and the type of insane neighborhood bickering you normally have to find on Next Door.
The ancillary content has been equally as thrilling as a pretty good schism between outlets who need the Michigan brand and those who do not has developed. Over on Fox, Colin Cowherd has been on that wall fighting for Jim Harbaugh and the Wolverines since this thing broke, providing a pretty good window into the shifting explanations everyone with a Michigan fan in their life has listened to for the latest edition over the past month.
Today, in a monologue where every single choice is a journey, Cowherd did a lot of broad voicework and equated Michigan to a car that's driving 88 mph on the freeway when everyone else is going 71.
Look us in the eyes and say Cowherd isn't a master at what he does. Watch everyday and one marvels at how many ways he can get a reaction without being too much of a character. It's a tight rope to walk but he does it well.
Watch every day, though, and you'd realize this is actually an update on a previous speed-limit metaphor on this very topic. Just last week Cowherd said Harbaugh is "doing 93 in his Maserati" while everyone else does 73.
So if our advanced stats are correct, Michigan and Harbaugh -- we think Harbaugh's driving in this brain exercise -- have eased off the gas a bit and the others have slowed as well.
It's a developing story I selfishly don't want to end any time soon because it's so fun. Cowherd's going to be a go-to voice on it until there's some resolution. Cars change speeds with great frequency. We know you'll stay tuned.