Jimmy Johnson Says Not Drafting Michael Strahan Was Biggest Mistake of Career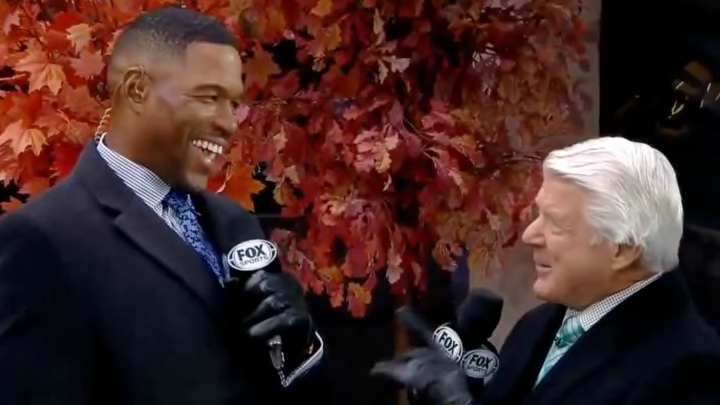 Michael Strahan and Jimmy Johnson /
Michael Strahan's jersey will be retired at today's New York Giants-Philadelphia Eagles game at Metlife Stadium. It's a long time coming for the Hall of Fame defensive end, and the day has finally arrived.
Strahan, of course, has established himself as a great TV personality in the years since his playing days ended and was on FOX NFL's pregame this morning, breaking down the Week 12 matchups. His teammates on set sprung a surprise tribute video on Strahan featuring former teammates Eli Manning, Osi Umenyiora, Justin Tuck, and also Tracy Morgan for whatever reason. It was a nice moment and you can see Strahan getting emotional at points throughout. It was a bit more of a pure moment than when Manning showed up on Good Morning America in a box.
Jimmy Johnson then got the chance to monologue about Strahan and said the biggest regret of his NFL career is not drafting the DE.
Just about everybody loves to say they regret not drafting a good player in retrospect, but it seems like Johnson's tale has a touch more basis in reality because he went so far as to send a scout to Strahan's house on draft night. I don't envy that scout. However, Johnson's memory may be deceiving him, because according to the internet the Giants did not leap the Cowboys to pick Strahan in 1993. The Cowboys did trade back, but the Giants stood pat at No. 40 overall and took him there.
Given Strahan's Hall of Fame induction took place seven years ago, it's kind of weird the Giants waited this long to officially retire his jersey. But better late than never, as they say. It's a special day for Strahan and he surely appreciated what FOX did for him here. And Johnson's regret will live forever.