Latest Media Gossip Musings Leads
Michael Cohen Shouts Out Prison Buddies Tony Meatballs and Big Minty During MSNBC Interview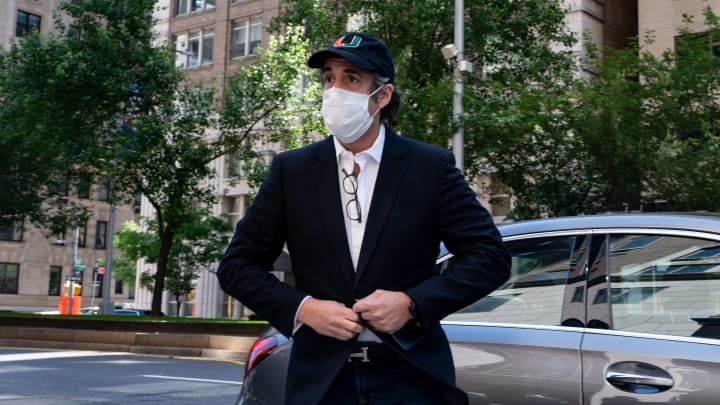 Trump Lawyer Michael Cohen Released From Prison Amid COVID-19 Pandemic / David Dee Delgado/Getty Images
Michael Cohen was a guest on MSNBC Monday evening to discuss Donald Trump's recent spree of pardons. Cohen was released from prison in July and is now advocating early release for other prisoners. During the interview the disgraced lawyer said he was doing it for his jailhouse buddies like Tony Meatballs and Big Minty who he met at the Federal Correctional Institute in Otisville, New York.
It was truly a fascinating sequence:
He continued to talk about his advocacy in the second clip below:
Cohen said he made a promise to his friends at the medium-security facility that he'd continue to work to get inmates released early even after he got out.
Cohen was sentenced to three years in prison and a $50,000 fine for campaign finance violations, tax evasion and other fraud-related charges. He also pleaded guilty to lying to the Senate and House intelligence committees in 2017 regarding the proposed Trump Tower Moscow deal. For that offense, Cohen received a two-month sentence to be served concurrently with the tax fraud conviction.
He reported to FCI Otisville in May of 2019 and was released on May 21, 2020 due to COVID-19 concerns. Cohen was put on home confinement but was put back in prison in July after refusing to sign an agreement that stipulated he would have no contact with the media -- including releasing his tell-all book -- for the remainder of his sentence. Cohen successfully sued to challenge that ruling and was again released on July 24.
Cohen got early release, so now we can only hope Tony Meatballs and Big Minty get the same shot.