The Miami Heat Believed in Themselves Even Though You, a Doubting Hater, Did Not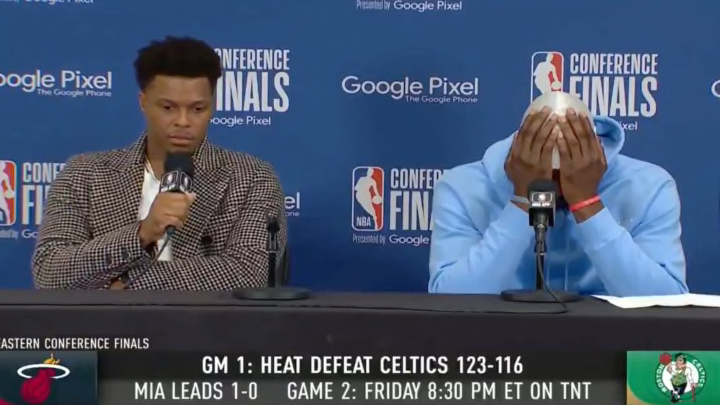 The Miami Heat took a 1-0 lead in the Eastern Conference Finals on Wednesday night with a 123-116 win over the Boston Celtics. This may come as a surprise to you, someone who can look at the NBA standings and see that the Heat finished the regular season with a 44-38 record, which was good enough to tie for the 11th-best in the NBA. But you were not in the locker room all year, believing. Sure, the Heat were the 8-seed in the East and lost their first play-in game to the Atlanta Hawks and then trailed the sub-.500 Chicago Bulls in the fourth quarter of their second play-in game, but they never stopped believing. Just ask Jimmy Butler.
"Damn right. I did. Damn right we did. And the best part about it is we still don't care what none of y'all think. Honestly speaking, we don't care if you pick us to win. We never have. We never will."
They don't care! Sure, they're a little annoyed with being asked about it as Bam Adebayo may have revealed when he was asked about. .. winning the first game of all three series so far?
Luckily, Kyle Lowry was happy to explain that the Heat are just trying to win games. They don't have the advantage of being a higher seed because they threw away the regular season. Just don't ask about that part of it I guess.