Latest NFL Leads
MetLife Stadium is Almost Completely Empty For Giants-WFT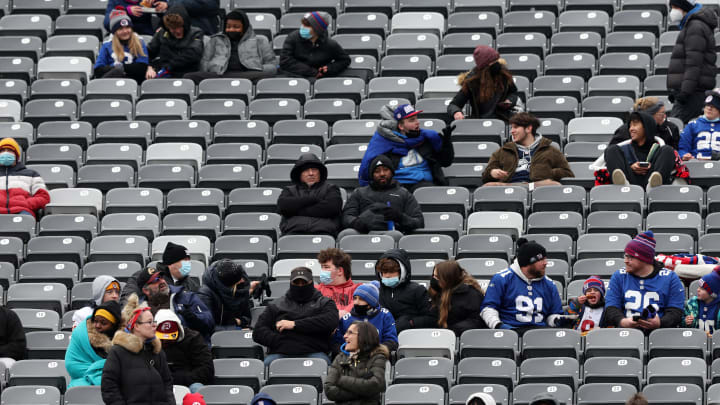 Washington Football Team v New York Giants / Elsa/GettyImages
Today is an exciting day for the teams whose seasons will continue next week in the playoffs. It is a generally uninspiring day for everybody else.
A game between two of those other teams is taking place on Sunday in New Jersey, where the New York Giants are hosting the Washington Football Team as the finale for the season. Neither team has anything to play for, having been eliminated from playoff contention by this point. Ron Rivera already told reporters he plans to use the game as an exhibition of sorts to see what the younger guys on the roster have instead of playing all his usual starters.
It is an especially depressing affair for Giants fans. At least their opponents have young, fun players to root for. The Giants have a grumpy and borderline delusional head coach, their young quarterback is out for the sixth week in a row with a neck injury, and there are less than a handful of players on the roster worth keeping around for the foreseeable future. Enthusiasm around the franchise hasn't been lower in a long, long time.
This is reflected in the attendance for the Giants' finale, which is... poor.
Do you know how hard it is to have a stadium that empty? Even in an entirely meaningless affair, NFL games are still big events that many people enjoy going to. Usually the stands will be at least half full, even if it's mostly filled with people who are there for the experience more than the team. But the Giants have the very special recipe this week of having an entirely hopeless team playing in an inconveniently-located and very expensive stadium against a franchise with just as poor support from the fanbase.
A sad day for the New York Giants.