Mel Kiper Jr. Net Worth & Four Fun Facts About the NFL Draft Guru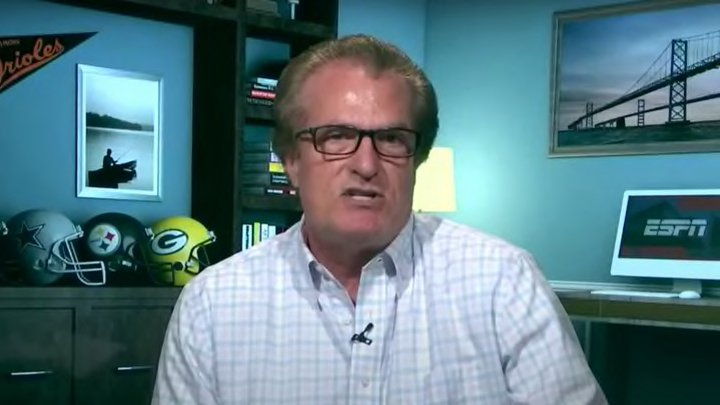 Mel Kiper Jr. /
Mel Kiper Jr. is ESPN's most recognizable NFL Draft personality. He's been part of draft coverage since its inception in 1984, when the league and ESPN first agreed to air the event live. Every single year, Kiper Jr. appears on-screen in millions of homes on a regular basis after the Super Bowl and makes sure we are all caught up on the names that will be announced by Roger Goodell on stage when the big day finally arrives.
You may not know a lot about somebody who is so annually present in every football fan's life from February to April. Here's Kiper Jr.'s net worth and a few fun facts you may not know about the NFL Draft guru.
Mel Kiper Jr. Net Worth
There is no official statement regarding Kiper Jr.'s net worth. However, according to celebritynetworth.com, Kiper Jr. is worth $7 million in total.
Now that you've got that info, here are a few interesting factoids about Kiper Jr.'s career.
How Old is Mel Kiper Jr.?
Mel Kiper Jr. is 62 years-old. He began covering the NFL Draft for ESPN when he was only 23 years-old, so Kiper Jr. has been doing this for well over half his life by this point. Extremely impressive that he's doing it in any way all these years later, but especially in the same place he started off.
Mel Kiper Jr.'s Jimmy Clausen Bet
Here's a story that Kiper Jr. is probably tired of hearing but we want to recount here anyway! Back in 2010, Jimmy Clausen was one of the top college football quarterbacks entering the draft as the man who helped lead Notre Dame to many wins during his tenure. Kiper was infamously bullish on Clausen heading into the draft. So much so that he made a very dramatic declaration on television in front of thousands. Maybe millions. How high viewership was for draft content back then is murky. As transcribed by Awful Announcing:
"If Jimmy Clausen is not a successful quarterback in the NFL, I'm done. That's it. I'm out."

Replied McShay: "What is your time frame, Mel? When do we make that assessment?"

Kiper: "I want eight years."

McShay: "It will only take three years, Mel. We can tell inside three years."

Kiper: "I want eight."
Bold! And so, so wrong. Clausen was taken in the second round of the 2010 draft by the Carolina Panthers, started 10 games, and was so bad the team got the first overall pick in 2011. They used it on Cam Newton and that was pretty much the end of Clausen's NFL career. He ended up in Chicago and Baltimore for a cup of coffee before falling out of the game entirely.
Kiper, as you can see, has not retired. But what a bet to make.
Mel Kiper Jr. Salary
Nobody knows how much Kiper Jr. makes, exactly. But it is safe to assume that he's been well taken care of by ESPN over the decades because he is the onscreen NFL Draft personality. Even casual fans recognize him due to how prominently he is featured in draft coverage. If NFL Network could've pried him away by this point, they would have. So your fun fact here is that Mel Kiper Jr. is well-compensated at ESPN, even if we do not know exact numbers.
Mel Kiper Jr. Big Board
As the first prominent NFL Draft personality to enter the national consciousness, Kiper Jr.'s name has been synonymous with the concept of a big board for football fans everywhere over the years. While he is often attributed as the inventor of the big board, that is almost certainly not true. But he does get credit for bringing it to the general public and allowing us all to create our own big boards.