Media Beef: Jeff Pearlman and Jason La Canfora Tweet At Each Other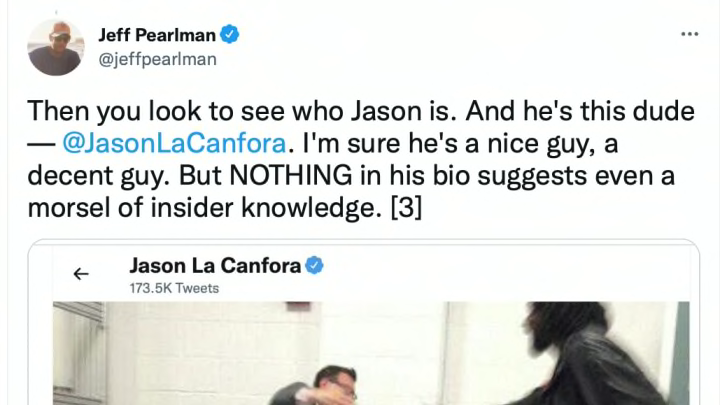 Jeff Pearlman and Jason La Canfora have thoughts. The two longtime sportswriters had a public spat on Twitter on Wednesday after Pearlman took offense to "some serious clickbait bulls--t" on the Sports Illustrated feed and tweeted about after midnight on the East Coast. The SI article in question, which was published last week, aggregates something La Canfora said in a radio appearance on June 30th.
Pearlman was hoping for something more solid instead of a story "reporting on something someone named Jason La Canfora theorized." Pearlman, who has apparently never heard of the longtime NFL reporter, was not convinced by his Twitter bio and said as much while tagging La Canfora, whose resume lists The Detroit Free Press, Washington Post, NFL.com and CBS Sports, where he also appeared on CBS's weekly pregame show, The NFL Today.
This morning La Canfora, who is apparently on vacation at the beach, woke up to Pearlman's tweets and responded before realizing he had previously muted the New York Times-bestselling author of Showtime: Magic, Kareem, Riley, and the Los Angeles Lakers Dynasty of the 1980s. La Canfora suggested Pearlman use Google in the future to "prevent you from looking like a complete jackass."
If you're wondering why La Canfora might have Pearlman blocked, a search of both their Twitter handles reveals a bunch of replies to the two of them in tweets about politics from the months before and after the 2016 Presidential Election, as well as a few in the summer of 2020. Whether La Canfora was retweeting or replying, only Pearlman's original tweets remain.
UPDATE: Pearlman responded later on Wednesday.