Mat Ishbia Had an All-Time Flop on Nikola Jokic Elbow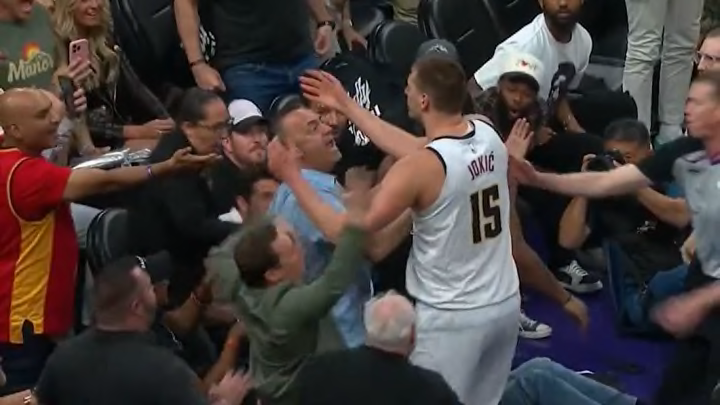 During the second quarter of the Phoenix Suns 129-124 win over the Denver Nuggets on Sunday, new Suns owner Mat Ishbia got into the fray. The former Michigan State basketball player showed he still has some skills, as he broke out a big-time flop after a slight shove from Nikola Jokic.
Late in the second quarter, the Nuggets had a one-point lead and Suns forward Josh Okogie went flying into baseline crowd diving for the ball, which wound up in Ishbia's hands. Jokic went to retrieve the ball but Ishbia refused to give it up and got tangled up with some fans, including Ishbia. As he demanded the ball back, Ishbia wouldn't back down and Jokic gave him a slight shove with his elbow. Ishbia went back into his seat like he'd been hit by a truck.
Watch a few angles of this:
Great flop, Mat. And, hey, it worked. Jokic was assessed a technical foul.
The NBA is certainly going to have a look at this and some believe Jokic could be suspended for Game 5 with the series tied 2-2. I'm sure a fine is coming but I doubt the league puts him on the shelf for a game.
Jokic was incredible in the loss, scoring 53 points with four rebounds and 11 assists. And one shove to an NBA owner.