Mason Plumlee Leaving a Laker Wide-Open for a Game-Winning Look is Sort of His Thing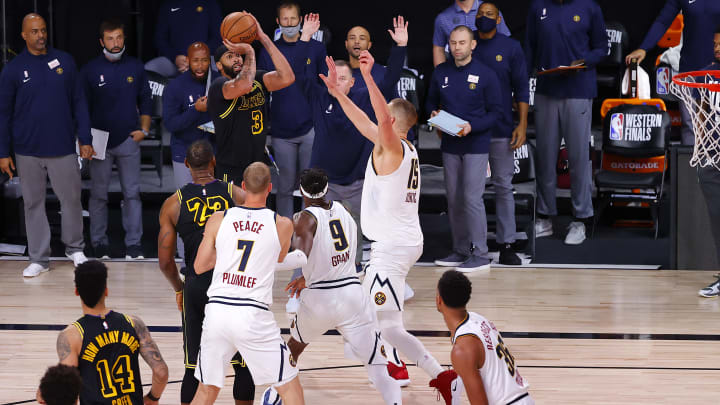 Kevin C. Cox/Getty Images
The Denver Nuggets have found great success with the unconventional formula of winning one of the first four games of a series and then playing like the fate of the world rides on the next three. They seem to be taking the same approach to the Western Conference Finals against the Los Angeles Lakers, as evidenced by a strong commitment to the bit in Game 2 last night. The Nuggets were able to snatch defeat from the jaws of victory by allowing Anthony Davis an extremely clean and unencumbered look at a buzzer-beater triple, which he sank with confidence.
Defensive replacement Mason Plumlee did not cover himself with glory during the 2.1-second stretch, allowing himself to be taken out of the play by a lackluster LeBron James screen and pointing for Jeremi Grant to do something — do anything! — about the situation. This was very much not the way Mike Malone envisioned things going when he scribbled up those Xs and Os on the whiteboard. It's also not the way Plumlee planned on defending it, as you can see by his pre-trigger motioning captured on a tweet that looks like the beginning of The Purge.
Second-guessing is way easier than first-guessing. Plumlee is long and quick. On paper, he's exactly the type of guy you'd want out there chasing an enormous Lakers lineup around in the waning moments. In practice, though, there were some causes for concern.
Here he is doing essentially the same thing on August 10 during Bubbleball action. This particular defensive breakdown allowed Kyle Kuzma to drain the game-winning three-pointer with .4 seconds remaining.
One rarely see a Mason allowing such freedom outside of a secret society. Just an astounding 1-2 punch here to the groin of Nuggets fans, who would have had every reason to believe in their team if they'd been able to play defense for two more seconds. A real shame Plumlee's oddly specific hobby got in the way of winning a basketball game, but we should have seen it coming.
On the bright side, Denver needs only to split the next two contests to have the overwhelming favorites right where they want them.