Martellus Bennett Sure Looks Like a Real Piece of Trash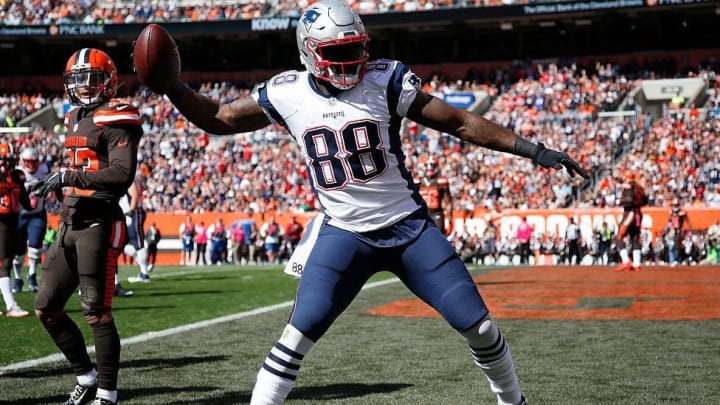 Let me preface this story by disclosing that I am a Packers fan who had a dreadful experience with Martellus Bennett this season. I have no issue with his general outspokenness, or NFL players non-violently protesting the national anthem. If Bennett had backed up his talk by performing on the field I shudder to think the lengths I'd go to defend anything he said or did. But as it turned out he couldn't catch chicken pox, quit on the team, and worst of all unjustifiably threw the team doctor under the bus.
After getting released, and with the Packers threatening to claw back bonus money for not disclosing a shoulder injury before being signed, Bennett went on a long text tirade in his Instagram story. Whether or not he was injured before the season isn't something I particularly care about here, but this section is what really grinds my gears (via Boston.com):
"The Packers examined my shoulder on my visit March 10 and cleared it," he wrote on his Instagram story. "They even gave me an x-ray as well. It got worse during the season, specifically against the Cowboys [on Nov. 8], so I asked to have it checked and we checked it. After a few days of contemplating to play with it or get surgery, I chose surgery. Now here we are…"
"They tried to f— over me," he continued. "Dr. [Patrick] McKenzie trying to cover his own ass. After trying to persuade me to play thru a major injury and me choosing to get surgery. They have access to all my medical records. My shoulder wasn't where it is now at the beginning of the season. I f—– it up playing for the Packers."
"Dr. McKenzie didn't make [me] feel safe and was pushing [me] to play, which I thought was weird. Not that he was trying to get me play thru it but the way he was saying things. I didn't trust him. So I got three other opinions from doctors, who all said I need to get it fixed. So I decided to do that. And they decided to waive me with some bullshit excuse. Failure disclose."

The day Bennett did that, everybody and their mom came out of the woodwork to defend McKenzie, who in over two decades in Green Bay has developed the reputation of being cautious and saving players from themselves. Jordy Nelson and Aaron Rodgers, the two leaders of the team, had the doctor's back. "I've been working with Dr. McKenzie for 13 years, and as well as being a phenomenal doctor, he's also become a close friend," Rodgers wrote. "He's done surgery on me twice, and I trust him and his opinion implicitly. Doc has always tried to protect me and my future, even if it meant protecting me from myself and my desire to get back on the field before I should."
Former Packers LeRoy Butler, John Kuhn, and Tom Crabtree weighed in.  Jermichael Finley, who has been severely critical at times of Aaron Rodgers and the Packers organization, wrote, "I felt like the Packers and Dr. McKenzie were always very cautious with us and cared for the players well-being. Never felt pressured to play through a serious injury."
And now, in the same week he got released and threw the doctor under the bus for urging him to play through his shoulder injury, Bennett is suiting up and catching passes for the Patriots. Look at these tweets from former Packer Tom Crabtree, and former NFL offensive lineman Geoff Schwartz:
This should tell you everything you need to know about Bennett's character. He's a quitter who sure appears to have smeared the reputation of an honest physician and New England's organization should be ashamed for enabling this behavior.