Streaker at Marlins Game Goes Through Herculean Effort to Escape Security
'There goes my hero....'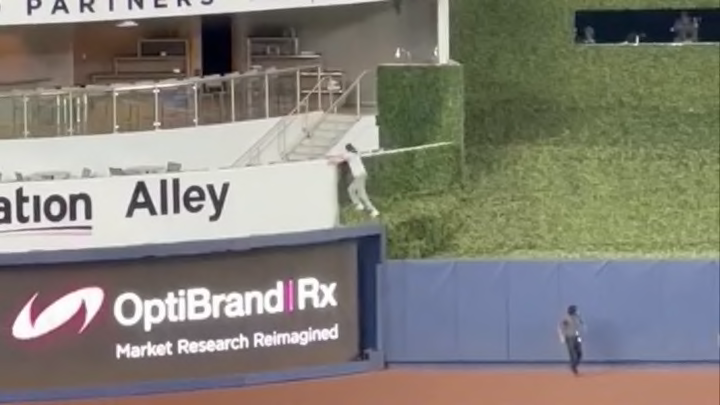 There goes my hero /
On Tuesday night the Miami Marlins hosted the Philadelphia Phillies for some NL East action. It ended in a comeback Phillies win but the real entertainment came in the form of a fan who leapt onto the field, dapped up the Marlins' right fielder, and then did absolutely everything he could to avoid security.
He ultimately failed and was apprehended but it sure is fun watching him try. First, if you want to watch the build-up to this, you can check out this TikTok. It features Cameron, the young man who decided he wanted to do this, and has video of him casually chatting with a Marlins player before he has to bolt. Then you can watch the below video of him scampering up the wall and hitting the concourse at a dead sprint like he's Ezio Auditore da Firenze.
The discourse this caused in The Big Lead chat was mostly focused on how we need new terminology for someone who runs onto the field of play with their clothes on. We haven't had a true streaker in years. A runner seems the most appropriate but is also used for other things whereas streaker has one universal meaning that everyone understands.
Anyway. He was eventually caught by security.
Let this be a lesson that there is truly no way to escape security if you end up on the field. You can climb several stories like this guy and still end up in cuffs. Clothed or unclothed.