Marlins Adult Ball Boy Shocked to Learn He Threw a Fair Ball Into the Stands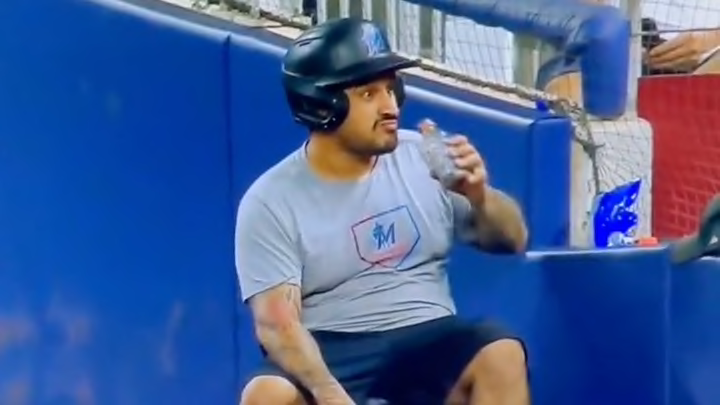 The Los Angeles Dodgers beat the Miami Marlins, 10-0, on Thursday night at loanDepot Park. Despite the Dodgers having one of the best records in baseball and the Marlins being right in the middle of the Wild Card hunt, only about 12,000 people showed up to see the game and thus only a few fans got to see a Marlins ball boy field a fair ball and throw it into the crowd.
During the sixth inning, Freddie Freeman hit one down the first-base line that rolled into foul territory which is where the Marlins ball boy confidently picked up the ball and threw it into the stands before right fielder Jesus Sanchez could get to it. The good news is that the Dodgers still scored four runs in the inning so the blooper barely affected the game, if at all. Sanchez gave the ball boy a hug and the game was never close so no harm, no foul.
Of course, the real humor in this situation is the fact that this guy is being called a ball boy. As you can see from the ball boy's reaction, he is no boy. This appears to be a fully grown man with a spit bottle. A spit bottle that he was using while being informed that the ball had been fair. Look how big his eyes got.
This is what's great about baseball. You put on a glove and you're back to being a child. Then you take it off and lightly wave it while saying, "my bad," and return to adulthood long enough to spit.