Six Things We Learned About the New Mark Titus-Charlotte Wilder Podcast on Fox Sports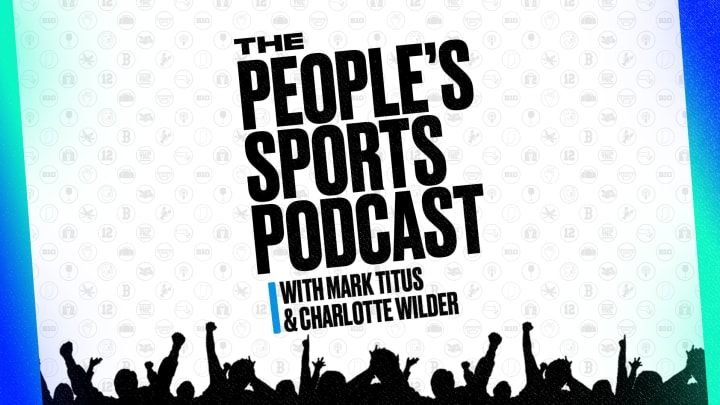 Mark Titus and Charlotte Wilder, each very low on Fox Sports' seniority list having joined the company in 2020, have combined forces and voices for a new podcast, which debuted today. The People's Sports Podcast with Mark Titus & Charlotte Wilder will be a weekly deep dive down rabbit holes that will embrace tangents — much like Scott Stapp — with arms wide open.
The duo hopped on Zoom with The Big Lead to watch the final 0.0 seconds of the Bucks-Heat game in complete bewilderment and discuss the project. Here are a few things we learned.
They realize there are already a lot of podcasts
Titus: Charlotte came on Titus & Tate, the other podcast I do, and we had a lot of fun. We said to each other, we should do this more often. We should try to find a release from all the horrible things that are going on. We're going to try to find things in sports that are fun, that are funny, that are lighthearted and use that as jumping-off points to have conversations. That's pretty much it. We're not trying to revolutionize the podcast industry. We're trying to have some fun at a time when there's not a lot of fun to be had.
Wilder: We're not trying to reinvent the wheel here and it might seem like hubris to say, you know what the world needs? Two more voices talking about sports. We realized that we both have the same approach to life, which is that you can find the ridiculous if you look for it.
They will absolutely not shy away from tough topics like children's literature awards
Wilder: We did a draft of things from the 90s and we both came in with the weirdest stuff where afterward we said, that was better than we thought it would be. It just felt as though there was real chemistry here and our brains go off on the same weird tangents. I came in hot with the Newberry Award winners from 1990-2000 like Walk Two Moons and Mark brought up the Caldecott.
Being themselves is their secret weapon
Wilder: I couldn't have done this 10 years ago. I can't describe exactly what my role is [in sports media] except that there have been people in hiring roles who have believed either in my writing ability or my speaking ability and from there have let me be myself. I'm extremely grateful for that and believe I kind of came along at the right time. I've seen things shift to a place where what listeners want – the word authenticity is thrown around a lot -- but if you're being yourself and people are connecting to it, that's a gift.
Titus: I had imposter syndrome for the longest time when I started doing this. I kept waiting for someone to tap me on the shoulder and say, alright this is enough, you were Greg Oden's friend for a while but the clock has run out on you. What changed for me was going on a March Madness Selection Show thing with Scott Van Pelt. It was me, him, Kara Lawson and Jay Bilas. I was about to go on air and I was nervous because I was 26-years-old and had no business being on set with those guys.
He pulled me aside and said, listen, I don't need you to be Jay Bilas. I need Jay Bilas to be Jay Bilas. I need you to be Mark Titus, that's why I invited you here. Go be yourself. He said that one thing and the weight has been off my shoulders ever since. That's the seminal moment in my career. I can be myself, that's easy. I do it all the time.
They could be catfishing each other, as they've never met in person
Titus: The first time I ever talked to Charlotte is when she came on our show. And if you think about it, we're never going to hang out until all this blows over so our entire relationship is going to exist via podcast.
Wilder: It's like a social experiment, really. I think getting to know each other over the show makes for good content.
Titus: I actually enjoy not knowing a ton about Charlotte. Some of my favorite moments on our practice shows have been her peeling back the layers and explaining her background. We have found out that we're very different people in a lot of ways. And that's good because you don't want two people on a show that are exactly the same.
Some class participation is expected
Titus: People want hosts who don't take themselves too seriously and hosts whose brains go in the same direction as theirs. They're like oh my god, they said exactly what I was thinking. That happens to me all the time to me if I'm ranking all-time basketball coaches or whatever. It makes sense. People want to find people who have similar thoughts.
Wilder: The more we surprise each other, the more we're going to surprise listeners. That's a big goal. I want people to laugh when they listen to this. [Laughs] That sounds so corny.
Like a more benevolent Bane, they are doing this for you, the people
Titus: The podcast audience is so much more intimate. People are hearing your voice for an hour at a time. They get to know you and hear how you see the world. They feel like they really know you and they sort of do because you can't really do schtick on podcasts. Eventually, the veneer comes off.
Wilder: I find it deeply humbling. I am constantly grateful and stunned. Part of doing this is honoring the fact that people are listening and paying attention to you. You can't pretend people don't know who you are. It's strange, especially in the pandemic where everything is through the computer.
Building a relationship with listeners is a huge privilege. I take those -- whether I know I have them or not -- very seriously because I remember being on the other side: listening to podcasts or reading my favorite writer or Twitter follow and feeling so excited if I were acknowledged or responded to. I think on this show, we're calling it the People's Sports Podcast and that started as a joke but that is everything this is. We want to give people something they want and honoring the fact that people are listening to it.