Mark Titus On His Move to Barstool Sports, Going Solo and Embracing the Unknown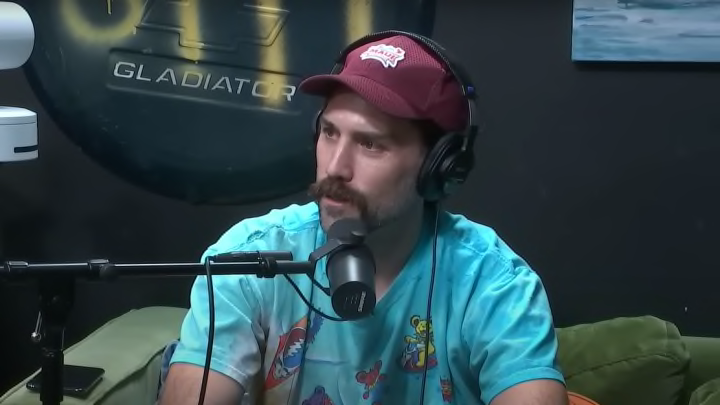 Mark Titus is making a big move. After three years working for Fox, the college basketball analyst and podcaster announced he'll be joining Barstool Sports and launching his own show. After a long collaboration with co-host Tate Frazier on One Shining Podcast at The Ringer and Titus & Tate at Fox, he'll be going solo with The Mark Titus Show based out of Barstool's Chicago office.
The 35-year-old became famous as a walk-on at Ohio State when he launched the blog Club Trillion. Titus' antics as a player gained national attention and he wound up writing a book, "Don't Put Me In, Coach: My Incredible NCAA Journey from the End of the Bench to the End of the Bench."

Bill Simmons hired Titus at ESPN's Grantland in 2012, then brought him to The Ringer in 2016, where he first paired up with Frazier. The duo moved to Fox Sports in 2020, and had their final show together on February 2.
Titus talked to The Big Lead about this shift in his career, how Barstool became the perfect fit, why moving to Chicago was a big factor in his decision and the challenge of working without a co-host for the first time.
The Big Lead: Why does moving to Barstool Sports make sense at this point in your career?

Mark Titus: For me it was kind of a perfect fit for a lot of different reasons. I'm going to start with the life part of it. Being from the Midwest, I think the appeal of moving to Chicago was certainly a big factor for me. Having family in Indiana and just being able to spend more time around them, I think that's been really hard on me living in LA for the last four years. I really like LA, it's not like I'm dying to get out of here. The idea of wanting to go to Chicago has been in the back of my mind for a while. So when this opportunity presented itself, I got very excited about being closer to home.
TBL: Obviously Fox and Barstool are different worlds. What appeals to you about that change?

Titus: Fox was awesome, and I do love the people I worked for and with at Fox. And I will look back on that time very fondly, but I also realized that I don't know if putting a suit and tie on and sitting at the desk at Fox was the ultimate trajectory for me, you know? That was the appeal of Fox in the first place. But I think I'm destined to kind of be the alternative, you know, more of a digital space and more freedom to kind of play around and be goofy. Barstool is the obvious choice for that as well.
TBL: Your new show launches March 6 and Titus & Tate ended on February 2. How hard was it to not have a show to discuss college basketball for a month?

Titus: It's been horrible, man. I'm just doing the podcast for my friends and family. I'll just call people and start talking and they'll say, "Are you just monologuing to me right now?" And so it was weird, I kept doing the show just not for an audience. And I think I've always approached the shows I've done as it's just me. If you were to sit down next to be at a bar, I would sound a lot like I sound on the podcast.
TBL: You and Tate Frazier became co-hosts, first on One Shining Podcast at The Ringer, then on Titus & Tate for Fox. After more than five years as partners will it be strange working without him?

Titus: Yes. Tate was very much my security blanket. I view Tate as a brother. He's like a younger brother. He has an older brother so he might not love that. He's like, "I'm good. I don't need an older brother, but thanks anyway." I think the chemistry we have is unmatched and it was special and it was a ton of fun doing the show with him. And, frankly, I wanted to do it forever. This is not a situation where I'm like, "I'm ready to move on from Tate." I just think at this point of our careers we had different things we wanted and, I don't know, that happens in life and business sometimes. I'm definitely not closing that door. I would love to work with Tate again.
TBL: Do you anticipate the transition being hard?

Titus: Right now it's going to be difficult. It's going to be interesting. I embrace the challenge though. I think I have grown so much in this job the last three or four years. I feel so much more comfortable interviewing people. That was something three, four, five years ago, I would have just been crapping my pants at the thought of. Now it's just become commonplace. People are naturally going to want to compare my new show to my old show and I have no choice but to reject that premise because it just won't be like what Tate and I had. I'm going to miss Titus & Tate as much as some of the people that listen to our show are. It was a ton of fun. But I'm looking at it as moving forward.
TBL: Did you have an idea for a format in mind ahead of time or are you working with Barstool to develop it?

Titus: A little bit of both. I listen to a lot of podcasts that are solo and I figure out what I don't like about some of those. But I realized I have more contacts and friends in this industry than I thought and I've thought about what the show will be. And I've just started reaching out to people asking if they'd be willing to come on and talk. I mean, I'm not trying to reinvent the wheel. I'm not going into this thing saying this is going to be a juggernaut that shakes up the sports podcasting space. I'm not that delusional.
TBL: Does it help to be debuting the show at the height of the season?

Titus: Certainly launching it during March Madness is going to be very easy for me. It's a treasure trove of content just turning on your TV. I'm not worried about that at all.
TBL: Who are your favorites heading into March?

Titus: It's a great question. Kansas is becoming too obvious to ignore at this point. There are just so many parallels between this Kansas team and last year's Kansas team. That's the first name that comes to mind. UCLA is interesting. I think we have to see these next few games leading into the tournament. Alabama is a really sexy pick because of their style of play and Brandon Miller is the most talented guy in the country. Houston has kind of been the best team all year but they haven't really been tested the way I want them to be tested. I'm out on Purdue, I will say that much. I'm definitely out on Purdue.
TBL: College basketball has a long offseason, do you think you'll wind up talking about other things?

Titus: That's one of the appeals of Barstool to me. I don't want to turn my back on college basketball because I genuinely do love it. If I got hired to cover the NHL, I would still be watching a ton of college basketball. But yeah one of the appeals of Barstool is being able to branch out more. First and foremost I'm a sports fan. I mean, that's how I grew up. I played every sport imaginable. I love watching football. Every Sunday, every Saturday I'm just parking on my couch watching it. So I would like to take a stab at that.
TBL: Is there anything specifically you're looking forward to getting into?

Titus: I want this show to just be things that I find interesting and things I want to talk about. Naturally there's going to be a very heavy slant towards basketball though because basketball is ultimately what I find the most interesting. But, you know, I might have my dad on to talk about the Little League World Series. It's something I want to do because my dad (can) give me a breakdown of all the teams. I love the Indy 500, I might want to do an Indy 500 show. So it'll still feel like a basketball show in a lot of ways but every so often people will tune in and I'll have an hour on whether or not Ryan Day should be fired.
TBL: You and Tate created your own ecosystem and language over the years. Is the prospect of starting over daunting?

Titus: I'm curious to see how many inside jokes with Tate I use on the show and then just hear crickets from the guest across from me. I imagine that might happen the first few shows. But yeah we did kind of build our own language and yeah it is daunting moving forward. I think there will be a lot less schtick on this show because it's going to be hard to develop that with a revolving door of guests you're talking to. But I view this move as me growing up a little bit, which is hilarious because the outside word sees me going from Fox to Barstool and they see it as the most immature move possible. But I actually see it as the exact opposite.
TBL: Should listeners expect a different version of you?

Titus: I'll still be me, leaning heavy on sarcasm and jokes, that's just who I am naturally. But there might be an instance where I have a guy on and we just have a serious discussion about where basketball is going, or something. And then people listen and they're like, "I didn't laugh one single time, what the hell happened?" That'll be interesting. But I'm going to have fun with it.

I think it's going to be fun, I embrace the challenge of not knowing. I think I have a 70 percent idea of what the show will end up being and that 30 percent unknown can be scary. The unknown can be scary at times but the older I get the more I learn to embrace it. Because every time I've embraced the unknown in my life, it's seemed to work out.
The Mark Titus Show debuts on March 6.