Latest NFL Leads
Marcus Spears Hates Everything About New NFL Overtime Rules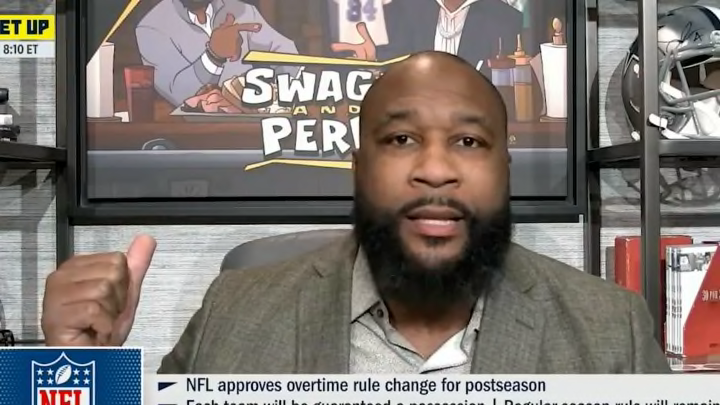 Marcus Spears /
The NFL has officially changed overtime rules for the postseason. The competition committee gathered in Florida for the annual owners' meeting this week and got enough votes to alter the rules so that, in the playoffs, both teams would have a chance to possess the ball even if the team that wins the toss scores a touchdown immediately.
It is a largely reactionary rule change borne from the outrage of the Chiefs-Bills divisional game this past season, where Patrick Mahomes and Josh Allen dueled to a draw in regulation before Kansas City won the coin toss and ended the game shortly thereafter, with no chance for Allen to respond.
It was a lame way to end an epic game and obviously there were a lot of people very displeased with the whole setup. So now we have new rules. Marcus Spears spoke about the development on Get Up this morning and explained in detail why he hated everything about it.
As a former defensive lineman, you can see where Spears is coming from. It doesn't eliminate the importance of good defense in overtime entirely but certainly de-emphasizes it.
At the end of the day, the hullabaloo about overtime feels a little absurd. Nobody is going to be happy when their teams lose. Were the neutral fans robbed of a last gasp by Allen to keep his team's season alive? Sure. But that's the way it goes. Changing these rules doesn't really make it more fair, it just means a loss will result from a different sort of failure.
Spears is dead-on with one thing, though: everybody wants to see touchdowns. The NFL knows that. It was, then, an easy decision to make. Ratings over everything, people!