Marcus Smart Breaks Out Defensive Player of the Year Robe Ahead of Game 2 vs. Nets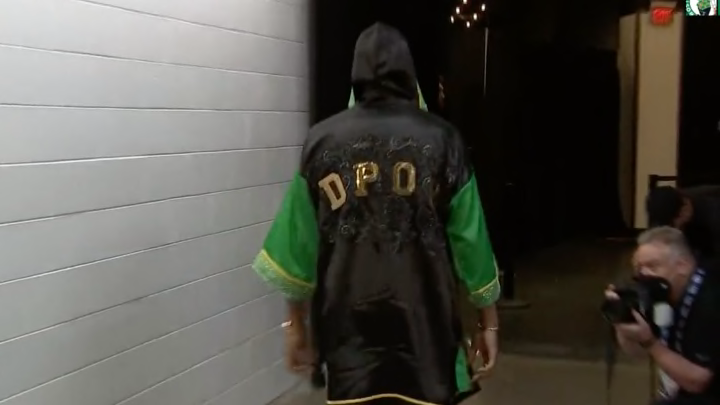 Marcus Smart /
There are two things you need to know about Marcus Smart: he is a relentless defensive force who would do anything, and I mean anything, to win a basketball game, and he loves wearing robes to games. It is not entirely clear why, but wearing big, colorful robes on game day has become Smart's thing over the last eight years in Boston.
Those two aspects of Smart's personality were given the opportunity to mesh today, ahead of Game 2 between the Celtics and the Nets in the first round of the playoffs. On Monday, Smart was awarded the 2021-22 NBA Defensive Player of the Year trophy, becoming the first guard since Gary Payton to bring home the hardware. Tonight will mark the first game Smart will play since earning the highest honor for a defensive-minded player in basketball.
So, naturally, Smart couldn't let the opportunity pass him by. He showed up wearing a Celtics-adorned robe with "DPOY" across the shoulders. It's glorious for everyone who loves him (me) and probably a heinous site for everybody else.
Hell yeah. That's how you arrive to a playoff game in style.
The Celtics are gonna need every bit of Smart's defensive acumen and swagger to get thorugh htis series. Game 1 was a barnburner, and Game 2 promises to be more of the same.