Rangers Rally Killed By Marcus Semien's Batting Gloves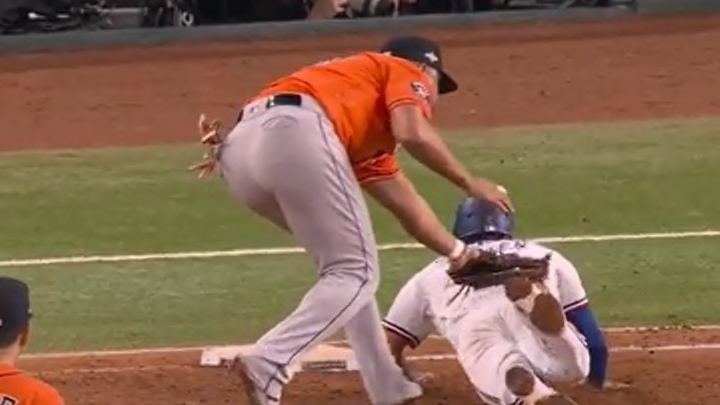 The Texas Rangers trailed the Houston Astros 7-3 in Game 4 of the ALCS Thursday night and a rally was killed in the strangest way I've ever seen. A batting glove cost Texas what looked like a promising inning.
Leody Taveras and Marcus Semien both singled to start the bottom of the fifth inning and Corey Seager stepped to the plate with no outs. The All-Star shortstop hammered a 2-0 pitch right at Astros first baseman Jose Abreu, who caught it on the fly. Then the craziness ensued.
Semien was caught off of first base and Abreu ran to tag him for a double play. It appeared Semien avoided the tag and slid back into first base safely. Then Houston called for a review. It turns out the batting gloves in Semien's back pocket were sticking out and Abreu tagged them before he got back to the base.
Check this out:
I have never seen that before in an MLB game. Not sure anyone else has either.