You Cannot Accurately Predict Major League Baseball's 20 Best-Selling Jerseys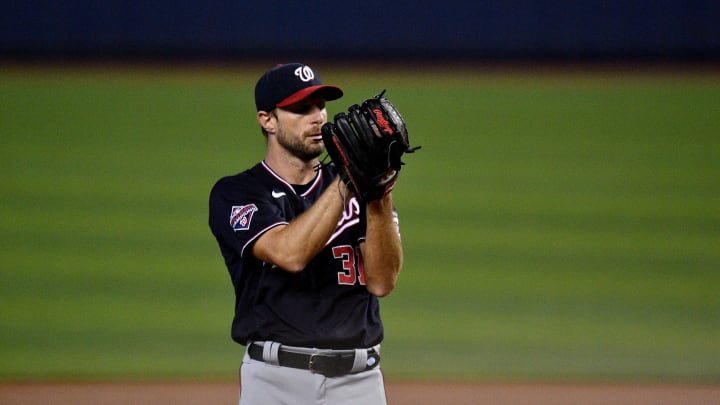 Mark Brown/Getty Images
It was, to state the obvious, an unusual baseball season. We were privy to a 60-game sprint after multiple bleak months in which it looked like it'd ultimately be a zero-game sprint. Major League Baseball's popularity remains fodder for actual concern and concern trolling. The 30,000-foot view would suggest we shouldn't be taking huge stock in this small sample size and Americans' desire to consume the product amid a pandemic and unprecedented sporting competition.
We do have some hard data, though, on the most popular players in regards to jersey sales, which MLB released today.
Mookie Betts sitting atop the list is no surprise. Possibly the best player in the sport getting a new uni in the second-biggest market is a recipe to move product. Judge and Harper at No. 2 and 3 makes sense too. The big surprise is Tatis Jr. at No. 4, which highlights how quickly his ascent to the elite has been. Couple that with Manny Machado at No. 12 and the San Diego Padres cement themselves as sexist/trendiest in-season squad.
The Washington Nationals' Juan Soto and Max Scherzer likely rode some World Series wave to purchases and the popularity of literally any Cubs player should be expected.
But my takeaway from this list is how impossible an endeavor it would have been to predict what it looked like before seeing it. Yadier Molina and Freddie Freeman sort of blow the mind, then one remembers the fiercely regional element of baseball.
Which, of course, is both a positive and negative thing. With so much handwringing over the perceived inability to market top stars, perhaps it's instructive to see that it's difficult to collectively identify who they are. Or, at the very least, the ones who really resonate can surprise people.
That's not to say that's a major problem. Seeing Tatis and Soto and Baez and Acuna all in the top 10 would suggest that people are noticing all this thrilling young talent and purchasing accordingly.
And, as Abraham points out, the lack of any Red Sox player totally skews the list. Who knows how long we'd have to go back to see when there were no Boston-centric players in the top 20?
Strange times.