Madison Bumgarner Ejected After Hand Check For Sticky Stuff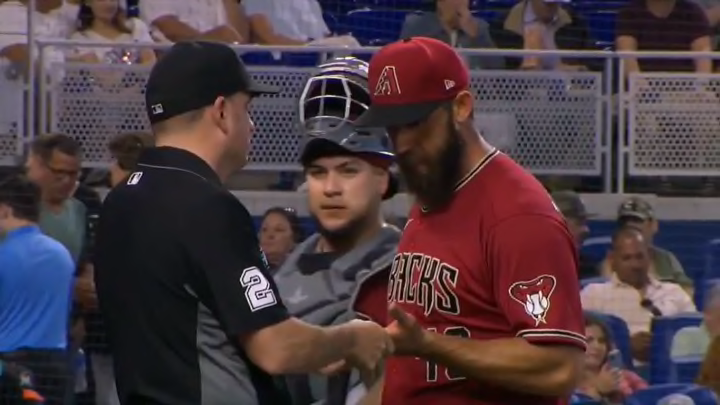 Madison Bumgarner gets checked for sticky stuff by umpire Dan Bellino before being ejected /
Major League Baseball has continued checking pitchers for "sticky stuff" this season, though there hasn't been as much drama with the checks so far this year. We got our first blow-up on Wednesday, though, as Madison Bumgarner was thrown out following a post-inning confrontation with an umpire.
The Arizona Diamondbacks are facing the Miami Marlins today and after the bottom of the first inning, Bumgarner had his pitching hand checked by first base umpire Dan Bellino. The check took a bit longer than usual and appeared to get contentious. Then Bumgarner said something that got him ejected.
Check it out:
And here's another look, where you can see Bumgarner say something that gets him tossed:
I'm speculating here but it looks like Bumgarner appeared annoyed that the check was taking so long so maybe he said something related to that.