ESPN: That Mac Jones Pass Did Not Hit Our SkyCam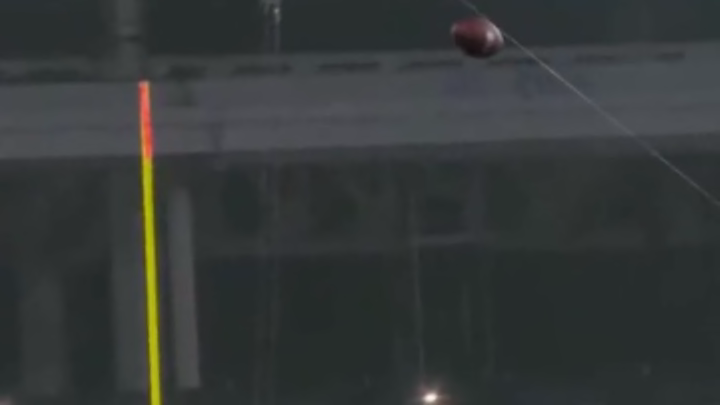 There are countless reasons for the New England Patriots' embarrassing and lopsided home loss to the Chicago Bears on Monday Night Football. Defensive intensity never made it through security checkpoints and Bill Belichick appeared to be making up a quarterback plan as he went along, despite his insistence that Mac Jones and Bailey Zappe were to play musical chairs. More on that this week as he tries to prove how much smarter he is than everyone else. Why was Jones throwing six passes for 13 yards essential to the process? We may never know.
A much-needed distraction has manifested, though, as an online sleuth combing the finer points of the films discovered something straight out of Oliver Stone's JFK.
Scandalous! Reasonable minds can disagree about the level of contact made or not made at all. We can all agree that it was a very bad pass after a very bad decision by Jones and Jaquan Brisker made a terrific leaping grab. The lob was always destined for trouble even if it enjoyed a nice, uninterrupted flight path. Which it probably did!
Also the Bears toyed with the Patriots all night like a cat that catches a bird to the point it was sort of uncomfortable, so unless this potential touchdown was worth 25 points through some surprise Rock N' Jock gimmick, all of this is sour grapes.
Yet wires should not be getting involved in plays. Not in a $12 billion industry increasingly dependent on being perceived of being fair and balanced for generations of new gamblers. The Skycam is just not that important. When's the last time you've been out watching the big game and heard fellow Buffalo Wild Wings patrons go nuts for the Skycam? I'd wager it hasn't happened in years, if ever.
ESPN has released a statement after all the speculation: "This pass from Mac Jones did not hit ESPN's SkyCam wiring. This video creates a false impression, but in reality the SkyCam wire was more than 15 feet above the ball and our SkyCam system followed all NFL protocols."
So, case closed. The next profoundly silly case lurks around every corner.