Luka Doncic After Dropping F-Bomb on ESPN: 'In Slovenia That's Not Cussing'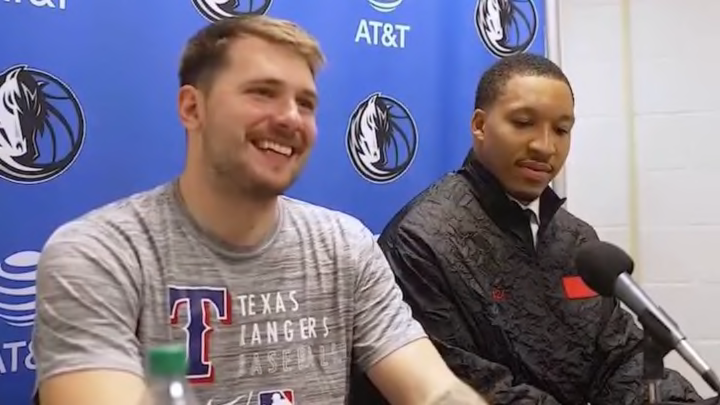 Luka Doncic /
Luka Doncic's fifth NBA season got off to a stellar start last night as the Dallas Mavericks superstar dropped 33 points, 13 rebounds, and 10 assists to spoil Victor Wembanyama's San Antonio Spurs debut. Doncic has always put up big stats but this felt like a more masterful performance than normal because he was in complete control the entire game. Even when the Mavs let the Spurs keep it close into the final minutes it never really felt like the outcome was in doubt.
Another Maverick who played quite well in the season opener was rookie Dereck Lively II. The No. 11 overall pick recorded 16 points and 10 rebounds for his first professional double-double along with a block and a steal. He was exactly the sort of rim-rolling, paint-defending center the Mavs have been looking to pair with Doncic for years. Doncic was asked about Lively's NBA debut on ESPN after Dallas secured the victory and he dropped the first postgame interview curse word of the year. A high honor!
When Doncic headed to the podium afterwards he was asked about his unintentional f-bomb and with a big grin on his face said that's not really cussing in Slovenia because that's how they say good morning.
I am of the opinion that we should just delay the interviews by a few minutes and athletes can let it rip. Give us the honest and unfiltered thoughts with a bleep button! The entertainment value would be great and maybe it would help break everyone out of the habit of giving cookie-cutter answers if they don't have to give a second thought to what they're saying. Food for thought.
An NBA player cursing during an interview and then apologizing means basketball really is back.