Low Morale at CBS Sports.com as it Eschews Reporting in Favor of Aggregation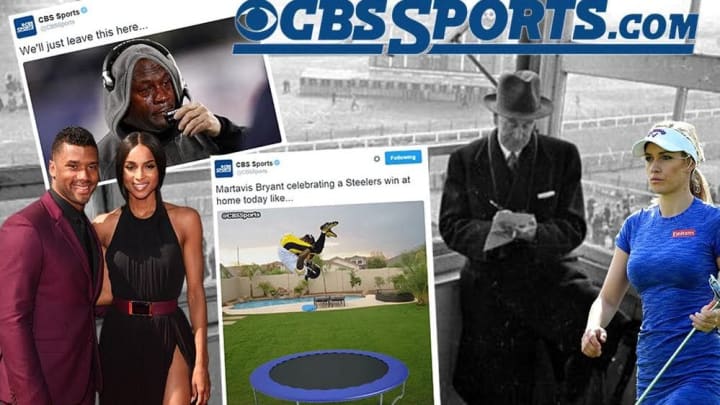 Steve Elling made the biggest mistake of his career in 2001, though he wouldn't realize it for a decade. He gave up covering Florida State football at the Orlando Sentinel to cover golf and its young ascending star, Tiger Woods.
Elling was one of the country's most prominent golf writers in the early 2000s. CBS Network televised the premier golf events; Elling traveled the world covering the PGA Tour – 20+ tournaments – and wrote about them at CBSSportsline.com (which became CBS Sports.com in 2007).
When the Tiger Woods scandal hit in late 2009, Elling was churning out content regularly, but the sport lost an icon, and TV ratings sagged. Golf struggled to find anyone remotely interesting to replace Woods, and viewers tuned out. Still, in early 2012, Elling met with his then-boss Craig Stanke, a big golf fan, and was told, "we're going to go all-in on golf."
In May 2012, Stanke unexpectedly passed away. Eight weeks later, Elling had purchased his plane ticket and prepaid for a hotel to cover the British Open. He was four days away from leaving for the tournament. His new boss, Mark Swanson, called and said he was going to be in the area, and they should meet up.
"He dropped the hammer on me," Elling told The Big Lead. "The explanation was the golf numbers were never as good as CBS wanted them to be. I told them that wasn't totally in my control – I didn't control the home page or write the headlines. They had hired a blogger earlier in the year, and then they replaced me with – I guess they went the Yahoo model – a blogger who nobody had ever heard of and a complete amateur as far as his bonafides. He was going to make 1/3 of what I did and have no travel."
"I picked the wrong horse," Elling said wistfully. "I should have stayed covering Florida State. I'd be fine. Nobody's laying off college football writers."
He's sort of right. But at CBS Sports.com, they're not keeping college football writers, either. They're not really keeping … anyone. In what some see as a troubling trend in the industry – with CBS leading the way – mainstream websites are shifting their business model away from reporting and toward aggregation.
CBS Sports.com – a venerable company that was once an acclaimed sports newsgathering organization – is a frightening example of where the model may be heading.
"They fired the former general manager in 2013 because he was only running 6 percent profit margins, and they wanted 20," former CBS Sports managing editor Mark Swanson told The Big Lead. "They promoted Jeff Gerttula [into his place], and in early 2014 he told me he 'wanted to protect me.' My first thought was, 'protect me from what? I've been here 18 years!' He fired me 15 months later."
Profits may be at an all-time high for CBS Sports Interactive, but in speaking with nearly a dozen current and former staffers, morale is at an all-time low.
After Elling was fired in 2012, writers sensed big change was coming and began looking for exit strategies. College football reporter Brett McMurphy was hired by ESPN before the real bloodbath started in 2013 after Gerttula took over: veterans Scott Miller (MLB) and Danny Knobler (MLB) were among 50 full and part-time staffers let go in what employees called a "bloodletting" that took place between late July and November.
"Years ago we never heard the word 'pageviews,'" one CBS Sports.com writer told The Big Lead. "Then we started getting monthly reports and you're judged on pageviews more than anything else … I don't like it. Nobody does. How many recognizable voices do we have now at CBS Sports? Who are some of these guys? They don't matter in any way."
CBS lost Jeff Goodman (college basketball) to ESPN. Mike Freeman (NFL) bailed for Bleacher Report. In 2014 Bruce Feldman (college football) decamped for Fox Sports, and Gregg Doyel (general columnist), in a truly stunning move, left CBS Sports for the Indianapolis Star.
They were replaced on the cheap with an army of bloggers whose primary job was to follow the #1 rule of Les Moonves, according to staffers: "Don't F with the CBS brand." According to current and former employees, CBS Interactive can't help CBS Corporation from a business standpoint. But it can hurt it. (Case in point: Joe Paterno is dead.)
But amid the layoffs and the low morale – sources tell The Big Lead as many as five CBS staffers complained to human resources in the last year about their new Vice President, a crass, overbearing man named Anthony Mormile, who allegedly told an employee, "we'll fire you and you can go be a vendor at Marlins park" – CBS Sports.com came to a strange realization: Its readers didn't care about the names on the byline, or where the news came from, or the type of journalism that was being produced.
"If you want to play that game, tell me now, I'll play that game and hope a Kardashian shows up wherever I am," one CBS writer said. "But I don't care about that stuff. I don't want to do bullshit work."
AN AGGREGATION SOCIETY
Sports journalism has gone through radical changes in the last decade, from when blogs emerged on the scene, to You Tube and GIFs, to social media, and now, the mainstream media increasingly aggregating one another. If you talk to enough people in the industry, you'll hear sad but true statements like this: It's more important to be successful on Facebook than it is to break news.
Let's hear from MLB insider Jon Heyman, who recently left CBS Sports.com when the two sides couldn't come to an agreement on his contract. Heyman is basically the Adam Schefter of baseball news – he breaks a lot of it. But CBS apparently decided, why pay for him when we can just grab his tweets for free?
"All that means is to lift material from elsewhere, to lift other people's work, slap the word 'report' on it and call it your own," Heyman told The Big Lead. "This of course is efficient and inexpensive but adds little or nothing."
Actually, "little or nothing" might be generous – it's a race to see who can aggregate the news that someone else reported and take advantage of social media and search engines. The days of the mainstream media waiting for the Associated Press to chime in are long gone.
There's traffic to be had.
"It's vultures picking up carrion from the road," Elling said. "It's not news gathering. It's not your own work. Aggregation to me is kind of a dirty word. There's too much of it going on, and not enough original reporting. There are far too many people out there working at websites that don't have enough formal training and will throw anything out there to get an eyeball or not. There's not enough vetting."
In 2014, the Washington Post explored an interesting angle: Journalism is aggregation. A cynic might say that piece was a precursor to the paper expanding into essentially having an aggregation department. But as Elling said, aggregation is a dirty word, so the Post prefers "curation."
""But now I'm wondering if what I consider 'reporting' is just a form of aggregating, of skimming, of lifting the best parts of a scientist's work and repurposing it for my own interests.""
Can both be right? Maybe we're headed there. Or we've been there for years now, but nobody noticed until the mainstream media jumped in.
For example, this 2011 piece by Erik Wemple of the Washington Post examined the aggregation practices of the Huffington Post.
"Curation as original content: Make that argument at a newspaper conference, and a mob will be tugging on your lanyard. The media establishment views its work as the product of sublime industry. Any abridgement thereof doesn't qualify as original. Simon Dumenco, the AdAge columnist whose complaint somehow put Huffington Post editors in a scapegoating mood, says the key is whether the "aggregator is ADDING something.""
In January, a fascinating example of this arose in sports, and it felt like a first: One mainstream media outlet aggregated another, got all the credit, and the originator of the content had to fight to reclaim its own story. (This was totally different than someone reporting news on twitter and ESPN putting it on the ticker under 'ESPN and other reports.') It had the feeling of someone who bought a house, only to have squatters take it over.
The Pittsburgh Post-Gazette did a tremendous in-depth project on post-football life for two generations. In one story, reporter Brady McCollough spoke to Antwaan Randle-El, who said some very inflammatory things about the sport related to concussions.
The Post-Gazette didn't put his name or any of his quotes in the headline, because it was part of a larger splashy interactive presentation.
The Washington Post read it, and pounced before the Post-Gazette was even able to push the story. They re-packaged it, made Randle-El the headline, and the story caught fire online because often, people only read the headline and share it that way. Everyone assumed it was the Washington Post's story – even though it did link the original – but all it did was aggregate the Post-Gazette.
For a few hours, the Washington Post took the bulk of the traffic from the story. The Post Gazette had to aggressively "re-take" their own story on social media by pulling out the quotes, and making it a separate story, headline and all.
"It's definitely not good," McCollough told The Big Lead. "We're still trying to fight the good fight and report on something for a couple months and take the time to do something special. I'm thankful they got wind of it, but that also led to every site giving the Washington Post credit we should have be getting."
The cynic: That's on the Post-Gazette for not pulling the quotes out and making it a separate story. McCollough said those discussions were had internally, but doing that would might have taken away from the entire project and everyone would have just focused on the Randle-El quote.
Surely the Post-Gazette assumed many blogs would aggregate the Randle-El quotes. (We did.). But having another mainstream outlet aggregate the story, put a byline on it, and control the story before anyone had seen it?
"We didn't realize how viral it was going to go when the Washington Post grabbed it," McCollough said. "They did link to it. On twitter, things got confused – people thought the Washington Post was reporting it … Think about all the clicks people got. How many of those did we get for the reporting and resources we put toward the story?"
This led me to the inevitable question for McCollough: If this is happening now, what's it going to mean in 5-10 years for big projects like that for you and others?
"If you could just take someone else's reporting and aggregate it and make it look like it's your own, why hire somebody to do investigative enterprise reporting?" he said. "It'll be sad over time if this type of thing drives someone at the top of an organization to say, 'what do we get out of it? Is it worth the time we had the reporter spend on it?'"
This was a funny exchange between writers from the papers:
CBS SPORTS.COM AT A CROSSROADS
Given the direction aggregation is headed, is CBS Sports.com making the right decision to punt on reporters and insiders, and instead swipe the work of others, offer a couple pithy sentences of insight from bloggers (or in a few years, robots? Or even cheaper labor in the Far East or India?) and seek traffic that way?
"It's a shame. CBS, the Tiffany network and a gold standard for decades of journalism, has a website that has now eschewed journalism, news gathering and even interviews, to aggregate anything and everything under the sun," Heyman said. "Scores of great, experienced, hard-working journalists have been fired, laid off, let go or forced out without provocation, warning, or even good reason in most cases, either not to be replaced or replaced by an aggregator who gleans all info and even ideas from competitors' twitter feeds."
Mormile, the current managing editor of CBS Sports.com, wouldn't talk to The Big Lead for this story. He didn't return a voicemail at his office, and someone who answered a cell phone believed to be his said "wrong number" and hung up. He didn't respond to two emails, but forwarded them to CBS PR, who called The Big Lead to ask what the story was about.
Mormile, you may recall, was working at ESPN during the now-infamous "Chink in the Armor" incident. 
The complaints about him are endless. Staffers say he's hiring his unqualified friends and family members to write for CBS Sports.com and "claim they're baseball insiders."
"Anthony came from ESPN and he's loud and has a lot of opinions," said one staffer who refused to use his name out of fear of losing his job. "He has ways of doing things that … have struck a lot of people the wrong way. Anything that's been said is probably true."
Like the time Mormile gleefully boasted in the office, "I'm going to be firing somebody today!" More than once, sources tell The Big Lead, he's loudly told employees to "brush up on your resume."
One of the CBS baseball bloggers, Dave Brown, was recently fired by Mormile, and some say it was over a harmless political tweet that he sent out mentioning Jeb Bush.
"We were given a mandate about no political tweets, and I had gotten an email about it," Brown said via telephone last month. "I made a joke about Jeb Bush and got suspended from Twitter for two weeks. My humor is pretty lame. I don't think it was the quality of my work – I got plenty of compliments from CBS. There might have been a personality conflict between me and Anthony."
Tuesday, a CBS Sports spokesman sent us this statement: "It sometimes happens that disgruntled former employees speak anonymously to the press about their former employer, which seems to be the case here. The fact is Anthony is a valued CBS Sports Digital staff member who has made significant contributions to our company since joining us in 2015."
THE FUTURE
"They whacked me in November 2013," said Scott Miller, the veteran baseball writer who landed on his feet at Bleacher Report. "The direction at CBS seems to have been to go toward bloggers and aggregating vs. reporting. I think it's pretty obvious where they're going."
Miller spent 14 years at CBS Sports.com and remembers most of it fondly, except the end. "It was all left vague. We were given some numbers we had to hit. I was shocked and dismayed at the way things ended."
It's been over two years and Miller vividly remembers one thing about his exit: In April 2013, the APSE named him the fifth place winner among columnists from large-scale newspaper/websites in the country. Mitch Albom of the Free Press was 2nd. Bill Plaschke of the LA Times was 4th. And Miller was 5th. Seven months later, Miller was fired.
The readers, of course, may not care. Swanson, the former managing editor at CBS Sports.com, says, emphatically, "no consumers give a shit who breaks stories. Everyone has them within minutes. We thought there was value, but there's none. This isn't opinion. This is empirical."
This sounds like an odd thing to say. Reporters who are embedded in a sport, and connected with front offices and players and agents don't matter?
"The public is too unsophisticated to understand the difference between the dateline on a story or whether it is aggregated," Elling said.
So who matters?
"Those [highly paid] guys don't come close to paying for themselves. When it comes to writers, they're not doing enough for the brand to pay for themselves."
Which brings us back to Elling, the golf writer who picked the wrong sport and found himself jettisoned by CBS Sports.com in 2012. What happened next may jolt sportswriters.
He had to go overseas to Abu Dhabi to find highly-compensated work, making tax-free money covering golf for an English Language newspaper. "It wasn't ideal," said Elling, who had to leave his wife and elementary school son in the US for long stretches. "It was like a two-year hitch in the military. I was shocked, bitter and disappointed. I went through all the breakup stages."
Elling, along with many others interviewed for this story, spoke of reporting nostalgically, as if it is officially a thing of the past, replaced with aggregation now, and maybe worse later.
"It doesn't seem very honest," he said. "I wish there were more rules and regulations. It's the wild west. It's thinly veiled plagiarism. I guess it's fair game."