Louisiana Tech Fan Asked a Player for a Hit of That Thing During a Game, Got One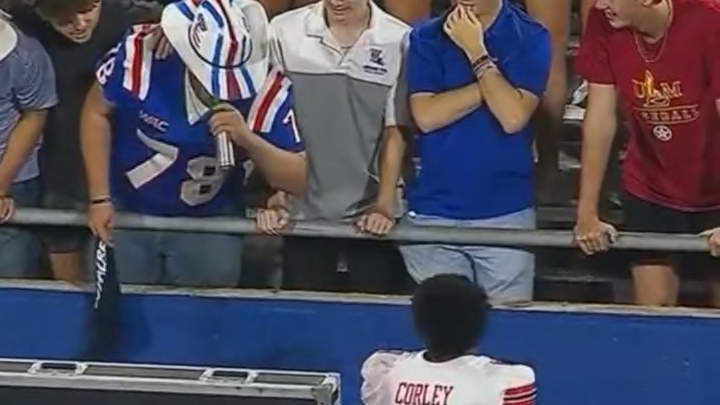 Western Kentucky went down to Ruston last night and wasted no time building a 35-7 advantage over Louisiana Tech. Wide receiver Malachi Corley was a major part of that, scoring three touchdowns before halftime and appearing genuinely unstoppable. That is to say: whatever he was doing was working and the assembled Bulldogs fan wanted some of what he was having.
Having on the sideline. Whatever he was having on the sideline, which looked like Grade-A compressed air oxygen shots or whatever they give football players to get them in the right frame of mind to do battle. Corley, to his eternal credit, was generous when asked and at one point handed a can over to a guy in a funny hat and an offensive lineman's jersey.
Beautiful moment. Some things are just bigger than sports. Like feeling good all the time.
Oddly enough, the game flipped on this noble display of sportsmanship as Louisiana Tech mounted a comeback in the second half, eventually falling just short at 35-28. So maybe the lesson is to never let up on the gas pedal or spray nozzle no matter how comfortable a lead can seem.