Local News Reporter Immediately Regrets Sampling South Carolina State Fair Food During Live Broadcast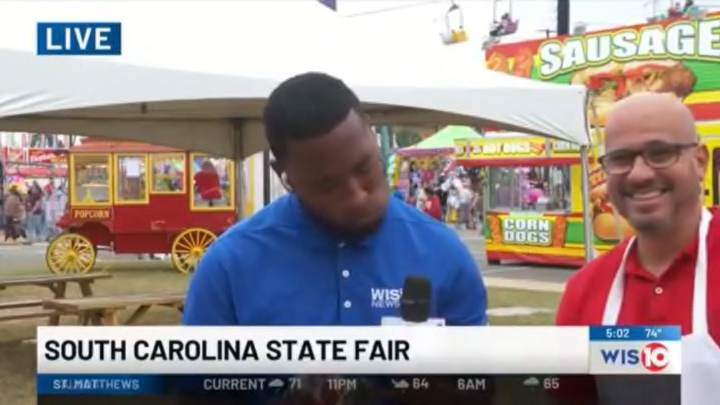 The South Carolina State Fair is in full swing at the South Carolina State Fairgrounds. The fair runs from October 11th to the 22nd so there is still plenty of time to plan your visit. WIS 10 out of Columbia has had reporters Jalen Tart and Jordyn Markhoff on location pretty much since the start of the fair and they have often appeared live on air showing all the fair has to offer. That includes the many food choices, some of which they have sampled live during broadcasts.
And that's exactly what happened to Tart at some point in the last few days as he sampled a Polish dog, which appears to be a sausage and pepper sandwich, live on-air. He did not appear to enjoy it and back in the studio it seems like they could tell.
The looks on his face say it all. This young man has a Masters degree in journalism and just started working at WIS 10 over the summer, but he clearly has the steely resolve of a much more seasoned man on the street.
His head first shakes from side to side as if to say NO as he tastes the food, but then he remembers he's on camera, right next to the vendor, and he changes that motion to up and down as he pushes the food into his cheek and forces out a "pretty good." He then throws it back to the studio as fast as he can and holds on for dear life as he waits for the light on the camera to go off. And once it finally, mercifully, does, we can only imagine what happened with the food that was still in mis mouth.
Meanwhile, back in the studio anchor Judi Gaston tried very hard to keep a straight face and failed in an incredibly amusing manner, while a co-anchor off-screen laughed out loud after joking, "Bring back a hot dog for everyone, Jalen."
This is local news at its best. And a reminder that live television is a high-wire act that can go wrong at any moment if take too big a bite of any story without knowing how it's going to taste. The important thing is that viewers definitely learned something here.
UPDATE: Here's WIS's exclusive interview with WIS's Jalen Tart.