Lions Screwed by Missed Holding Penalty on Seahawks' Walkoff Touchdown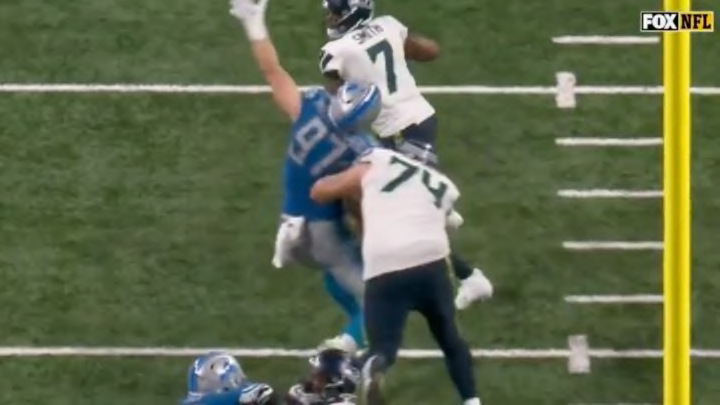 Lions-Seahawks /
The Seattle Seahawks and Detroit Lions engaged in a wild shootout for the second year in a row on Sunday. The contest ended up going to overtime after the Lions scored 10 points in the final five minutes. The Seahawks got the ball first and drove all the way down the field without much trouble. They were facing a third-and-one in the red zone when Geno Smith dropped back to pass. He rolled to his right, found the ever-reliable Tyler Lockett, and hit him for the walk-off touchdown.
However, it was obvious in real time (and especially so in slow motion) that the referees missed a hold on the Seahawks' left tackle. A hold that allowed Smith to escape Aidan Hutchinson and throw the go-ahead touchdown. An important call to make, many would say. And the refs completely blew it.
Here's the play at full speed.
Sure is weird that Hutchinson's momentum suddenly stops and he can't pivot to the outside, huh? The slow motion replay showed it was as egregious as it appeared.
Just terrible. These calls are missed with some regularity and it's not like there's a grand conspiracy against the Detroit Lions, of all teams, but that's bad. Gotta make that call in that spot, especially when it happens directly in front of their eyes.
The Lions may have beaten the Chiefs in Week 1 but this proves the more things change, the more things stay the same. Same old Lions. Losing winnable games due to a combination of their own errors and mistakes made completely outside of their control.
A tough loss for Detroit.