Remembering LeSean McCoy's Snow Games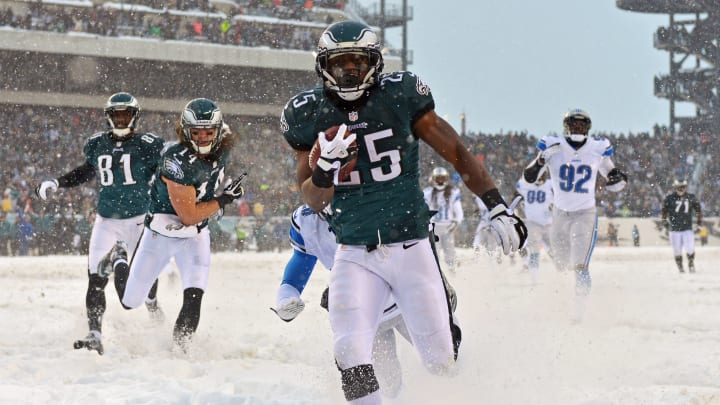 LeSean McCoy / Drew Hallowell/Getty Images
LeSean McCoy is signing a one-day contract with the Philadelphia Eagles and will retire, the team announced today.
McCoy's career came to a quiet end; the running back spent the last few seasons bouncing around the league and making spot appearances, most recently joining the Tampa Bay Buccaneers in 2020 and earning a second Super Bowl ring to go along with the hardware he got from the Kansas City Chiefs' 2019 championship run.
In his prime, though, Shady McCoy was the most electric running back in the NFL. He was lightning-fast and could juke anybody out of their shoes on a dime. He has a high ranking when it comes to the most fun running backs to watch in NFL history.
Furthermore, there was no one player more fun to watch when it was snowing outside than McCoy. Snow games are by and large ugly affairs in professional football, but when McCoy was on the field, bodies were flying all over the place as he alone possessed the balance required to keep his feet while darting and spinning between the hashes.
McCoy had two notable Snow Games during his career. The first came with the team that drafted him and the team that he'll retire with, playing against the Detroit Lions. The second was with the Buffalo Bills against the Indianapolis Colts. In those two games, McCoy totaled 375 yards and three touchdowns.
He was truly a pleasure to watch on the football field, and it may be a while yet before we see another player with his combination of speed, agility, and balance.