LeSean McCoy: Justin Fields Can't Throw, No Top Receivers Will Want to Play With Him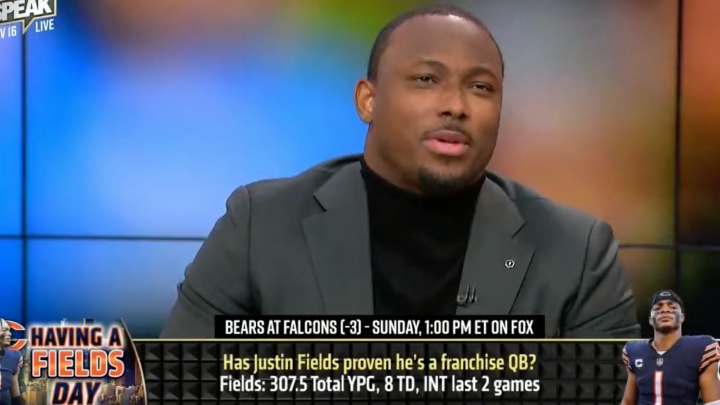 LeSean McCoy /
Justin Fields has found his rhythm in the NFL and the Chicago Bears are finally using him the right way. The sophomore QB shook off a brutal start to the season and has turned in four weeks of quality performances, powered by a newfound freedom to tuck and run whenever he pleases. Fields broke the league record for the most rushing yards by a quarterback in a regular-season game and kept the Bears competitive, a far cry from the early days of the year.
The signal-caller is still far from a finished product, especially in the passing game. For how good he's been in the last month Fields still struggles to produce through the air. Over the last four games, he's thrown for eight touchdowns and only two interceptions, which is great. But he only averages 6.7 yards gained per passing attempt, which would have ranked 28th in the league last season. On the year Fields is averaging 7.2 yards gained per passing attempt, so there's still plenty of room for optimism, but the best stretch of his career has been driven by his legs rather than his arm.
The primary reason this is concerning is that Fields' ability to go through his progressions in the pocket was seen as his biggest flaw as a prospect coming into the league. LeSean McCoy thinks it's even a bigger problem than anyone realizes and said on Speak that Fields outright cannot throw the ball. As a result, no big-time wide receivers will ever want to come play with him.
This will probably end up on Old Takes Exposed. Fields certainly is not a premier passer but writing him off halfway through his second season is a bit over the top. As far as the top-flight wide receivers aspect, the quality of the QB doesn't matter as much as the contract the Bears could offer. Just look at Davante Adams. Derek Carr is a fine quarterback, maybe even good, but a far cry from Aaron Rodgers. Pretty much every quarterback is. Yet Adams insisted on a trade because he wanted to get paid.
The Bears clearly have something in Fields and for now that's all that matters. If he stays just an average passer, that'll be disappointing but something Chicago can absolutely work with. And it definitely won't challenge the team's roster construction as far as finding guys who want to play with Fields.