LeBron James Said 'Brain Fart' and Everyone Loved It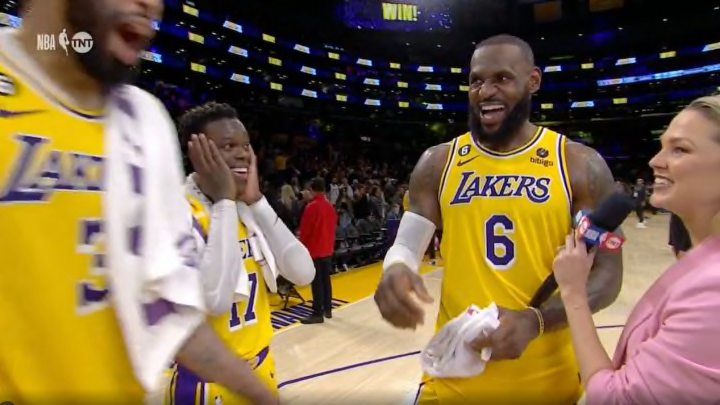 The Los Angeles Lakers beat the Minnesota Timberwolves in overtime of the Western Conference Play-In Tournament's 7-8 game on Tuesday night, 108-102. It's hard to describe the game, which was both ugly and thrilling at times. LeBron James tied the game at 95 with 2:02 remaining in the fourth quarter and no team scored again until Dennis Schroder hit the go-ahead three-pointer and apparent game winner with two seconds remaining.
It was an incredible moment that was then followed by this. Anthony Davis fouling Mike Conley shooting a three as time expired. An unthinkable mistake. And Conley walked to the line and knocked down all three, setting up overtime and what could have been an even more embarassing Lakers collapse.
Alas, it was not to be. The Lakers outscored the Wolves 10-4 in overtime and escaped the Play-In. After the game LeBron James and Schroder spoke with Allie LaForce. Asked about Schroder's big shot, James called out Davis for his "brain fart" and AD grabbed the mic to apologize.
It's the kind of moment that you only get after a win. If Minnesota had prevailed it is unlikely LeBron would have called Davis' foul anything quite as colorful.