Larry Vanover Had the Worst Night of the Season For a Home Plate Umpire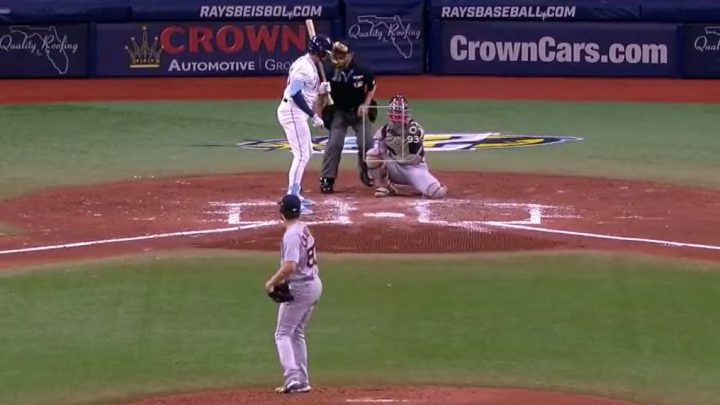 The Tampa Bay Rays and Boston Red Sox faced each other Tuesday night as both teams are in the thick of the American League playoff chase. Both squads needed wins, so they didn't have time for an umpire to be screwing up behind the plate. Unfortunately, that's just what Larry Vanover did.
During the Rays' 11th inning, 8-6 walk-off win, Vanover had the worst night for a home plate umpire of the entire 2023 MLB season. He missed an absurd 29 ball/strike calls, several in huge situations. He finished the night with 89 percent called pitch accuracy. His called strike accuracy was 79 percent, nearly 10 percent below average.
Here's a look at some of his awful calls:
I don't know how every player in the ballpark wasn't thrown out of the game. I mean, when stuff like this is being called a strike, it's time to riot:
How, Larry? How?
Here's another:
Overall on the season, Vanover's called pitch accuracy is 92.8 percent, which ranks seventh-worse in baseball. He's not Angel Hernandez, Laz Diaz, C.B. Bucknor or Hunter Wendelstedt, but he's really bad back there. Vanover didn't make our list of the 10 worst umpires in Major League Baseball, but Tuesday night's performance is forcing us to rethink things a bit.