Jamal Mashburn Has an Awesome Story About Larry Bird and the Dream Team - College Select Scrimmage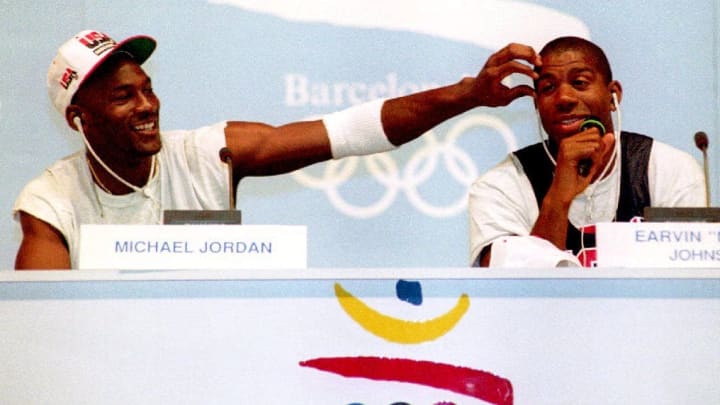 Michael and Magic / KARL MATHIS/Getty Images
Jamal Mashburn was on the latest episode of The Players' Tribune's Knuckleheads podcast with Quentin Richardson and Darius Miles. Mashburn told the story of the time himself, Bobby Hurley, Chris Webber, Grant Hill, Allan Houston, Rodney Rogers, Eric Montross, and Penny Hardaway took were brought in to scrimmage The Dream Team. It really is a great story about Larry Bird and one of the Dream Team's many legendary scrimmages that took place ahead of the 1992 Olympics in Barcelona.
Here's some footage from that scrimmage along with the story that Daly wanted the Dream Team to lose, barely used Michael Jordan, and got rid of the score before the press were allowed in the gym.
Of course, the ultimate highlight of the Mashburn story is obviously Larry Bird talking trash when he first met a couple players and then after he got revenge on Rodney Rogers for a light ribbing. It's the exact kind of pettiness that either ruins your life or makes you an all-time great.