Latest NFL Leads
Lamar Jackson Injured on Shoestring Tackle Against Browns, Carted to Locker Room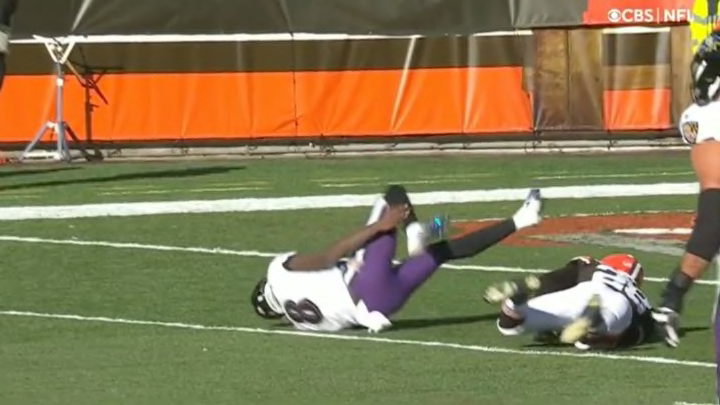 Lamar Jackson gets hurt /
The Baltimore Ravens apparently pissed off the wrong witch this season and have been hit with the worst injury bug we've seen in a long time. They lead the NFL in starts lost due to injury and are missing their starting LT, their top three RBs, and their top two CBs, among many others. Despite all that, the Ravens are 8-4 because they employ Lamar Jackson. But not even the former MVP is immune to what is plaguing Baltimore this year.
Going up against the Cleveland Browns in a divisional matchup this afternoon, Jackson dropped back to pass and scrambled to his right. He got the ball out as Browns rookie Jeremiah Owusu-Koramoah dove at his legs and tripped him up with a shoestring tackle.
Jackson stayed down on the ground afterwards and limped to the sideline with the help of Ravens trainers. He went into the blue medical tent before quickly getting carted to the locker room.
The fact that Jackson was carted off to the locker room that quickly is extremely concerning. It is almost always a serious injury when it requires a cart, even if the player managed to get off the field like Jackson did. The Ravens released an update that Jackson suffered an ankle injury and was questionable to return.
Jackson is perhaps the most exciting player in the NFL and it would suck big-time to lose him for any length of time. Here's to hoping Jackson isn't hurt too badly. The fact that he wasn't declared out immediately is reason for some optimism, but he probably won't be seen again today.
UPDATE: The Ravens made it official and declared Jackson out after halftime.