Lakers Fan's Halfcourt Shot for Big Money Turns Into Abject Nightmare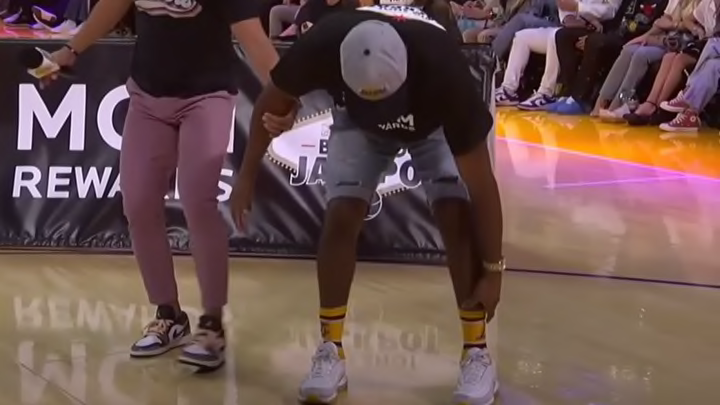 Not to make everything about Michael Jordan vs. LeBron James but one of the more indelible moments of the 1990s was when Bulls fan Don Calhoun lofted in a 75-footer in front of a packed arena and found the net to win $1 million. The images of him celebrating with the team after winning what was an absurd amount of money with one shot are always great. Something's been lost in translation, though, because our modern-day promotional longshots just don't deliver in the same way.
Last night a Lakers fan had the opportunity to take a stab from midcourt and snag a $55,000 purse courtesy of MGM. Identified only as Anthony, the contest winner was very confident, informing the in-arena entertainer that "this is what I do." Mere seconds later he was writhing around on the floor like Peter Griffin, mere feet away from any number of glitzy actors and actresses sitting courtside.
It really was quite a thing.
The emcee tried to plow right ahead and even offered a small laugh before realizing the severity of the situation. Things got pretty sad when Anthony was unable to physically perform a three-point shot for some other money. He did leave the court under his own power but not after a hellacious twist of fate thrust him into the public eye.
If there's any good news here, our poor protagonist here handled it pretty well and everyone on the real Lakers is at the age where they break down from time to time so everyone was pretty understanding.