Anthony Davis For Ben Simmons Might Be Worst Theoretical Trade of All Time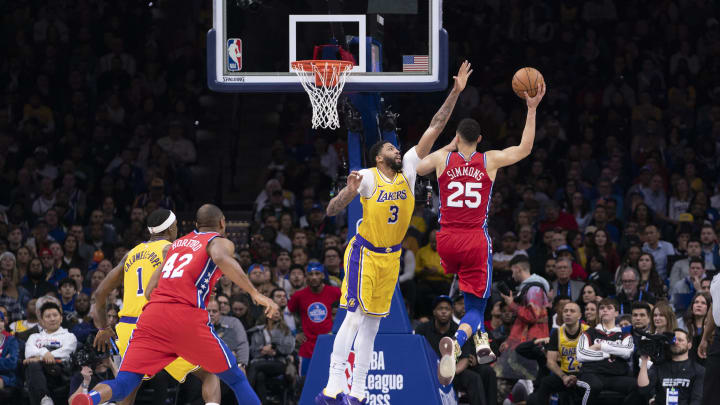 Ben Simmons vs. Anthony Davis / Mitchell Leff/GettyImages
The Los Angeles Lakers are struggling and will continue to do so for the foreseeable future as superstar Anthony Davis will miss at least the next month with a knee sprain. Because these are the Lakers, and because they have LeBron James, the concept of being merely average is the equivalent of a world cataclysm for the purple and gold fans. It's caused a lot of insane talk over the last few days, including musings from verified accounts wondering if LeBron would demand a trade back to Cleveland.
Today, Skip Bayless and Shannon Sharpe talked about trade destinations for AD on Undisputed. They did this because... Davis has injury issues and can't be an alpha male when the Lakers need him? I guess? Anyway, they talked about possibly trading Davis for Ben Simmons. Folks, this is where the title comes in. I think this legitimately might be the worst trade proposal to ever see the light of day.
It is legitimately difficult to think of a trade that would benefit both teams less than this one. Simmons is basically a bigger version of Westbrook, entirely incapable of spacing the floor whose main offensive skills are passing and rebounding. Los Angeles is having a hard enough time with one Westbrook on the floor. What the hell would happen if they had two? The only clear benefit for the Lakers here is that the perimeter defense would get better-- at the cost of their interior defense, since AD is far and away their best defender there.
And why on earth would the Sixers trade for another superstar big man? Davis can sometimes shoot from deep but he's a career 30 percent shooter from three and is hitting only 17 percent of his tries beyond the arc this year. Yes, he would be a better option than Simmons simply by virtue of his willingness to play basketball, but there are very few on-court fits worse than Davis for Joel Embiid.
Just nonsensical. Come on, folks. I get that we're almost to Christmas and content is lacking, but let's get our heads on straight here.