Kyrie Irving's Press Conference Did Not Make Things Better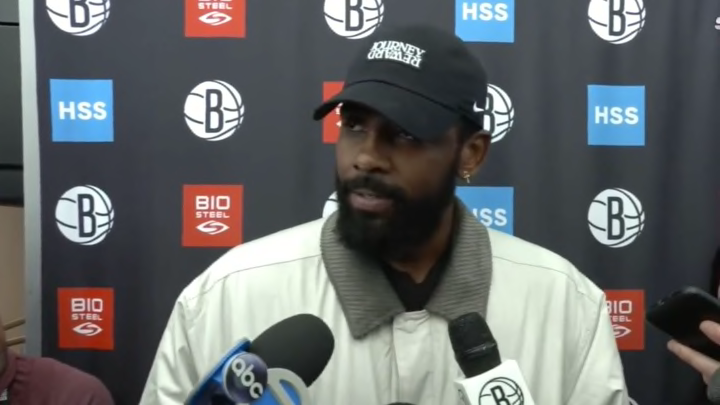 Kyrie Irving /
Kyrie Irving met with the media today for the first time since Saturday. The last time he spoke to reporters, Irving lashed out at the line of questioning about the antisemitic documentary he posted about on his social accounts and accused ESPN''s Nick Friedell of "dehumanizing" him. Earlier this week, Sean Marks said Irving would be unavailable to media while everyone "cools off." In the interim, Irving sent representatives to meet with the Anti-Defamation League and released a statement in which he took responsibility for his actions.
Notably, Irving did not apologize. The absence of an apology led to the strongest public statement by the NBA yet, straight from Adam Silver, in which he expressed his disappointment in Irving and said he'd meet with the Brooklyn Nets point guard himself next week.
Irving got in front of microphones during Nets practice today. It did not go well. Irving was asked straight-up if he had antisemitic beliefs and said he "cannot" be antisemitic if he knows where he comes from. When asked, again, for a yes or no answer, Irving repeated himself.
Here are a few of his other quotes that came out before a Nets PR staffer cut off reporters.
It's not great. Irving still won't apologize, which seems like a pretty easy thing to do after pushing Holocaust denial content. Yet here we are.
This won't be going away anytime soon. The NBA should bring the hammer down in the same way they did for Meyers Leonard. But talent reigns supreme in professional sports, so we won't get our hopes up.