Kyrie Irving Seeks Clarification From Adrian Wojnarowski On Headline and Story He Didn't Write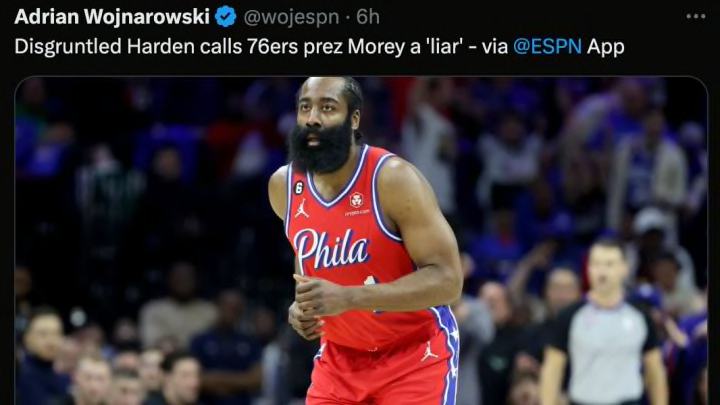 James Harden made it a point to call Philadelphia 76ers president Daryl Morey a liar twice. It's not a great situation for a team that is getting dangerously close to trusting a process without many significant, meaningful results for like a decade now. The bearded guard's surprising comments in China are dominating the NBA conversation today and everyone is weighing in.
ESPN's top reporter Adrian Wojnarowksi shared an article from ESPN.com titled Disgruntled Harden calls 76ers prez Morey a 'liar,' which received a response from Kyrie Irving, who himself has been accused of being less than gruntled from time to time.
And honestly, it's a fair question because both things might be true. Harden could be very disgruntled because there's been a lack of transparency and a lack of fulfilled promises throughout his time negotiating with the franchise.
In fact, the article says as much:
Harden's unhappiness with Morey stems over the lack of a long-term maximum-level contract offer, sources said
The thing is, though, that Woj did not write the piece he promoted. Instead it's credited to ESPN News Service. Reporters also rarely get final say on the headlines of stories they actually turn in. Everything about his tweet suggests he shared it automatically without adding any of his own input. But hey, certainly worth discussing for the few people not already mired in discussions about it.