Kyler Murray Is a Legit NFL MVP Candidate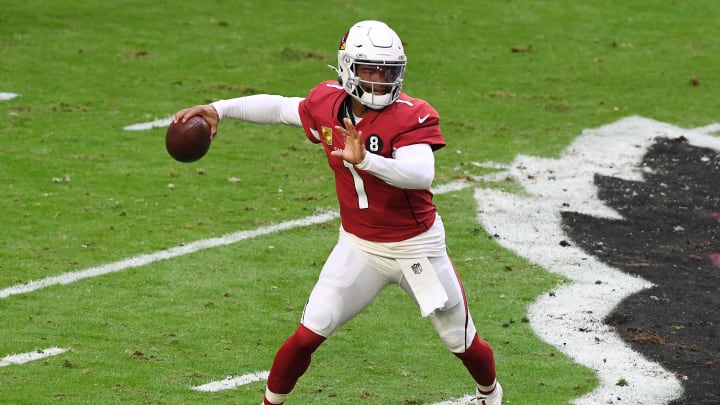 Kyler Murray, Miami Dolphins v Arizona Cardinals / Norm Hall/Getty Images
We all know Kyler Murray is an absolutely electric football player and has been excellent since entering the NFL as the first pick in the 2019 NFL Draft. But while you were focused on other big names, the young quarterback has rapidly ascended from intriguing prospect to legitimate MVP candidate in his second season.
Murray has arguably surpassed Lamar Jackson as the most dynamic quarterback in the NFL. As Jackson has struggled running the ball this year, Murray has become the best rushing signal-caller the league has to offer. It isn't just about his legs though, the guy can throw the ball around the yard as well. He's improved tremendously as a passer this season and has been aided by the arrival of wide receiver DeAndre Hopkins.
On Sunday, Murray's Arizona Cardinals lost to Tua Tagovailoa and the Miami Dolphins, but the outcome of the game didn't change how excellent the 23-year-old quarterback was.
Murray finished Sunday's game completing 21 of 26 passes for 283 yards, with three touchdowns and no interceptions. He added 106 yards rushing and a touchdown on 11 carries. He was virtually unstoppable in the 34-31 loss.
On the season, Murray has completed 68.1 percent of his passes for 2,130 yards, with 16 touchdowns and seven interceptions. His passer rating currently sits at 99.3 and he's averaging 7.63 yards per attempt. On top of that, he's rushed for 543 yards and eight touchdowns. That means he's personally accounted for 24 touchdowns, only Russell Wilson (29) and Patrick Mahomes (27) have more.
Whille Murray isn't at the top of the heap of NFL quarterbacks quite yet, it's easy to see how quickly he's ascending the ladder. Wilson and Mahomes clearly lead the MVP race right now, with Aaron Rodgers lurking. But Murray is not far off and is certainly within striking distance if he can pull off a great second half.
At just 23 years old, Murray is already knocking on the door of being an elite quarterback. Not bad for a kid a lot of people thought was too small to succeed in the NFL.