Kyler Murray's Agent Made a Huge Mistake Trying to Force Cardinals' Hand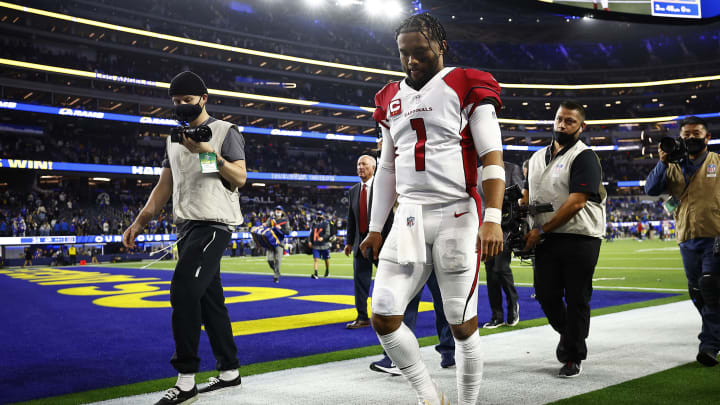 Kyler Murray / Ronald Martinez/GettyImages
Kyler Murray's season ended with a whimper as he threw for all of 137 yards and two interceptions with zero touchdowns in the Arizona Cardinals' wild-card loss to the eventual champion Los Angeles Rams this past January. All was quiet for about a month. Then, out of nowhere, controversy started popping up around Murray. He unnecessarily created drama when he wiped his Instagram profile, which led to unflattering leaks from the Cardinals that Murray is immature and not suited to lead a football team. Cardinals' decision-makers went on record to deny all of that but the damage was done.
Now, Murray's agent, Erik Burkhardt, has entered the ring. On Monday he released a statement directly to Adam Schefter consisting of an entire essay explaining how Murray has contributed to an "unprecedented" turnaround in Arizona. As such, Burkhardt essentially demanded the Cardinals come to the table ready to get serious about a long-term extension for the young quarterback.
If all that feels insane, it's because it is! Burkhardt appears to have skipped the step of actually entering serious negotiations with the Cardinals and went right to playing hardball in public, which is never a good sign. Murray's accomplishments are impressive but far from unprecedented, too. You need only look at the Chargers or Browns or Bengals to see a team who was very bad very recently and became playoff contenders in short order due to a good young quarterback.
Burkhardt is also making these demands after Murray's third NFL season. It is common practice for first-round QBs to play out one more year and sign a big extension after the fourth season. The recent exceptions to that rule are only Patrick Mahomes and Josh Allen. Murray obviously isn't in Mahomes' stratosphere and it's fair to argue he isn't in Allen's, either. Burkhardt went public with contract demands before giving Arizona a reasonable amount of time to begin negotiations, one year earlier than Murray's play and resume suggests they should even open those negotiations.
All this does not exactly contradict reports of Murray being somewhat of a problem child. The relationship between player and team seemed to be strained before today. This essay by Burkhardt will not improve matters. When one takes that into context with Murray's complete flop in his first postseason game and his overall trend of starting the season hot before regressing when it matters most, it paints a picture of a talented player who could be more trouble than he's worth.
It's not likely the Cardinals think that. There have been other much more troubling players who have been retained by their teams despite both on and off-the-field issues over the years. But before today, that idea wasn't even in consideration. Reports of Murray being a bad leader isn't great, obviously. But a 24 year-old struggling to lead a team of grown men is a much more manageable problem than, say, not being able to read defenses or hit a receiver in stride 60 yards down the field. Murray can do both those things, physical feats that are more difficult to learn than becoming a better leader for his team.
But now? Now Murray's agent is making a power play in pursuit of a huge deal. There's likely even more conflict behind the scenes because Burkhardt is also Kliff Kingsbury's agent. It feels like Burkhardt is trying to wield his power in the same way Rich Paul does for LeBron James and the rest of his Klutch clients. But NFL teams do not play those games. There is a reason there is no agent in football with the same level of power as Paul or Scott Boras. Drew Rosenhaus is the closest example and even he does not leverage his influence in public like Burkhardt is trying to do.
This movement is going to create far more problems than solutions. For all of the justified concerns (so far) about building an offense around a QB of Murray's height and the injury issues that come along with being a scrambling QB of his frame, he was undoubtedly going to get paid. When Murray is rolling, he's a superstar. His valleys are more extreme than others on his level but that's bound to happen to most players still on their rookie contracts. Now that Burkhardt is airing the dirty laundry in public, the Cardinals are all but forced to wonder if giving into that kind of open demand is worth it.
The likeliest outcome is Murray getting a big deal at some point. But that was true before Burkhardt went to Schefter. All this statement does is complicate an already-complicated situation. It isn't going to help in the long run. In the short run? It's damaging. And it's not the kind of smart move that will get Murray his money.