NFL Network's Kyle Brandt Pissed Off By Deshaun Watson's Six-Game Suspension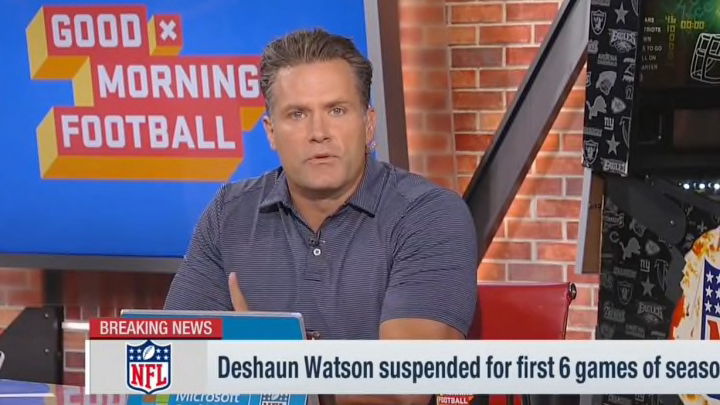 News of Deshaun Watson's six-game suspension has been met with a lot of disappointment and anger as we wait to find out if Roger Goodell is going to come over the top with a more severe punishment of the Cleveland Browns quarterback. After hearing about the allegations by dozens of women against Watson over the last year-plus, many people believe that the punishment does not fit the alleged crime. One of those people is NFL Network's Kyle Brandt who went off on the decision on Good Morning Football this morning.
"You start to lose track of the human element of this story. This is not a player that's being suspended for PEDS, or even gambling. This is a very poignant human story involving women and there's this thing about well, it's not 30, it's not two dozen, it's five. Who cares if it's one? Do you understand? It could be one and there's also this non-violent phrase that's being thrown out like it's some kind of Band-aid. The word is coersive. And I look at six and I find it very light. I hope it doesn't stay that way personally. I think that Deshaun Watson leveraged his status as an NFL player against women. In my opinion. And I think it happened more than one time and I think it was was in closed doors in small rooms against women who were probably intimidated. And it pisses me off to even talk about it. And frankly it pisses me off to see the number six. And I don't think it's going to stay that way and I hope it doesn't."
I think that's a pretty good summation of why people are upset with the short suspension. Even if the Collective Bargaining Agreement doesn't contain any precedent for something longer. This is something that we've been following for over a year and if this is it, it looks like there are no serious repercussions at all for Watson. Especially considering what the judge involved actually said.
An egregious pattern of behavior, but it was deemed, "nonviolent sexual conduct." It just doesn't make sense.