The New York Knicks Have Been Pretty Good and Pretty Lucky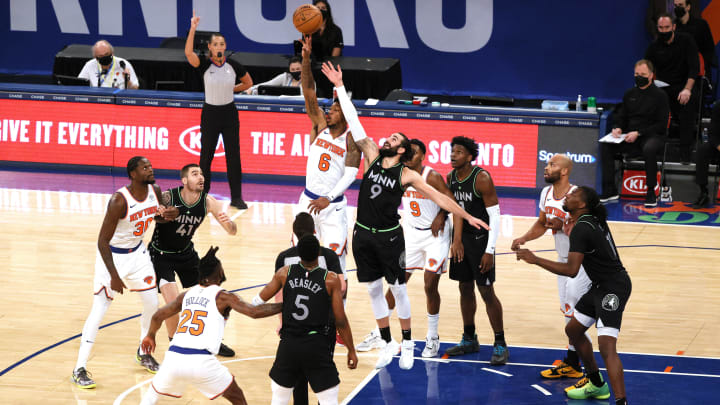 Sarah Stier/Getty Images
As the only online person to go on the record predicting the New York Knicks will continue their surprisingly good play all the way to the cusp of the Eastern Conference Finals, I'd be lying if I said there weren't some second thoughts and doubt creeping in. The team begins its second-half run tonight and it's easy to see them missing the playoffs entirely or earning home-court advantage in the first round.
One reason to believe an above-.500 run over half the season belies some extremely tenuous growth is the relative luck the Knicks have had in regards to their opponents hitting outside shots. They are best in the league at preventing efficiency from beyond the arc, with opposing teams shooting 33.6 percent on shots between 20-24 feet and 33.3 on those from 25-29 feet. This could be reflective of a dogged determination on defense fueled by Tom Thibodeau or it could be reflective of being downright blessed and kissed by fate.
It's not as though New York is stymying all looks at the basket from distance. They have been facing a combined 23 shots per game from 20-29 feet, with a conversion rate of 33.5 percent. Only five teams in the NBA have seen the other side jack with more frequency and none has seen more potential for defensive rebounds. Those figures work in concert beautifully. Until, of course, they slip back toward the mean.
Now, that might not happen. But it's simple to understand that the Knicks are getting some breaks around the edges. And from some different places. Consider that opponents are shooting less than 34 percent on corner three-point attempts, more than six percentage points below the league average. And again, those are flying with decent frequency.
A defensive unit is only as good as the next shooting stroke. So far, New York has been riding high on a prolonged inability to knock them down. That could continue happening for several more months and prove that it's no fluke. But if the house of cards begins to fold, there will be no hiding a hand trumped on the turn as luck changes.