Kirk Cousins Had the Time of His Damn Life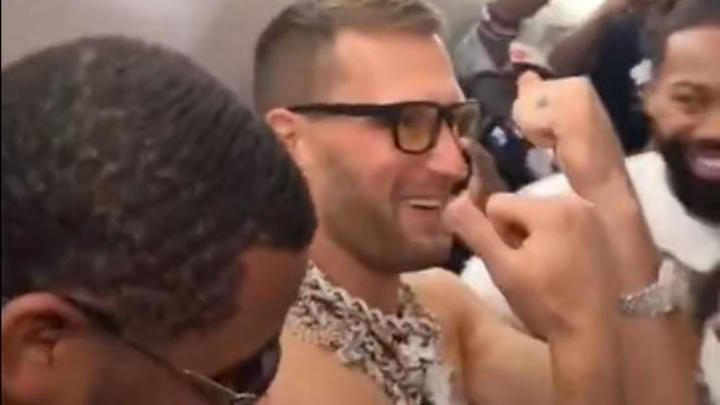 Kirk Cousins was good, not great in the Minnesota Vikings' 20-17 victory over the Washington Commanders on Sunday. After the game, he was incredible. From starting a You Like That chant in the triumphant locker room knowing it would echo and reverberate loud enough for his former team to hear, to acting like Ed Helms in The Hangover while riding the team plane, the 34-year-old chronically uncool quarterback was, briefly, extremely cool.
This is like if Riff Raff actually had all the athletic talent he brags about in his songs. But was also a giant nerd. Whose parents attended a Midwestern megachurch.
Cousins, for all the slings and arrows pointed in his direction, just keeps winning. The Vikings are 7-1 and would have to fall apart to not usurp the NFC North crown from a broken Green Bay franchise. It's entirely possible they catch Philadelphia for the No. 1 seed. In a conference that looks as thin as anyone can remember in a long time, they are one of the precious few who post a reliable effort week in and week out. They don't ask Cousins to do too much, but more than people think.
For the third straight year and seventh time in eight tries, he'll likely post a 4,000-plus yard season. It's not his fault he has tremendous weaponry at his disposal and never looks too physically impressive getting the job done. He could undoubtably be better yet has proven time and time again that he can get a team to the playoffs and is among the dozen people on the planet who can be trusted with the job.
That he's confident enough to be a mascot and the butt of jokes is peak Dad energy, something he's been training for since forever.