Latest NFL Leads
Keyshawn Johnson Wouldn't Be Surprised If the Kansas City Chiefs Fail to Win Another Super Bowl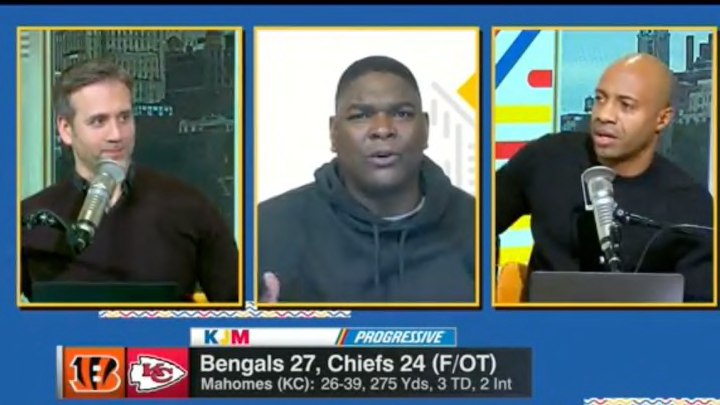 The Super Bowl is nearly two full weeks away so there's lots of time to fill right now. On this morning's edition of Keyshawn, JWill & Max, host Keyshawn Johnson debuted a hot, but inevitable take about the Kansas City Chiefs' window of opportunity closing following their AFC Championship loss to the Cincinnati Bengals. Let's listen.
People have been throwing a version of this idea around most of the season, especially after Chiefs' loses. While Patrick Mahomes dreams of undefeated seasons, any on-field struggles mean that the Chiefs are probably done. Johnson however, took it a step further, saying he wouldn't be surprised if the Chiefs never made it to another Super Bowl. His reasoning is shaky.
First, Johnson points out that the head coach's clock is ticking. Andy Reid is almost six full years younger than Bill Belichick. In fact, there were five head coaches older than Reid in the NFL this season. He's no spring chicken, but Reid can probably coach as long as his family and health allow him.
Plus, the rest of the NFL continues to shun Chiefs offensive coordinator Eric Bieniemy. So whenever Reid does step down, it sure looks like one of the best top candidates will just be sitting there ready to take his place. Over the last four years the worst the Chiefs have finished with Bieniemy and Patrick Mahomes is sixth in total yards or scoring.
Not stopping there, Johnson then points to the rest of the AFC as likely reasons the Chiefs will not make the Super Bowl again. The Buffalo Bills, who the Chiefs just beat again, and the Bengals, are getting better every day apparently. (It should be noted the Bills lost their offensive coordinator last week.) Why is it more likely those teams will continue to have success than the Chiefs? That's unclear, but they are good teams so maybe they will be able to sustain the success that elludes most franchises for long periods of time. At least this part seems plausible.
After that though... wooo boy.
"The Baltimore Ravens are not always going to be banged up and hurt."
"The Tennessee Titans are surely going to figure out their quarterback situation before it gets too late."
"The Cleveland Browns will probably figure out their situation."
"The Rams are not going to go anwyhere for a couple years."
Pick your favorite. Predicting good health for a team in an expanded regular season? Suggesting the Titans simply upgrade their quarterback as they head into a season where Ryan Tannehill is due to make $29 million? Suggesting the Browns ever figure out their quarterback situation? Or even bringing up a team in the other conference as you argue they probably won't ever make the Super Bowl again and then changing your prediction
The Chiefs have had double-digit win totals and made the playoffs in eight of nine seasons under Andy Reid. They have been to four consecutive AFC Championship Games and won a Super Bowl. They have reached the level of sustatined success that all the other teams mentioned are currently dreaming of. Could any of them do it? Sure, but is it any more likely than the Chiefs just continuing to roll? No, but who wants to say that on television?