Latest NFL Leads
Keyshawn Johnson Gives Bizarre Take About Trevor Lawrence and Hype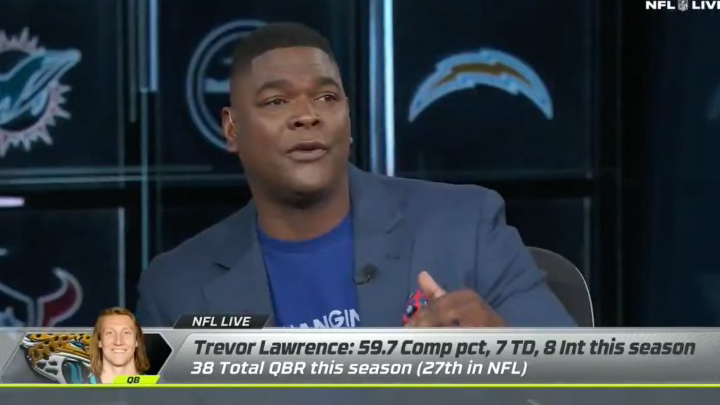 Keyshawn Johnson /
Trevor Lawrence has been pretty much exactly as advertised in the early weeks of his rookie season. He makes some dumb rookie mistakes but will make a half-dozen throws each game that range from very good to mind-blowing. The Jacksonville Jaguars are still only 1-5, but that is mostly despite Lawrence's play, not as a result of it. The Jags had the No. 1 pick last year for a reason, after all. They are not a good football team by any standard.
That last fact didn't stop Keyshawn Johnson from ripping off a bizarre take about Lawrence and the concept of "hype" on Wednesday's edition of NFL Live. Johnson attempted to make the argument to Dan Orlovsky (who looked more and more distressed as the take continued) that he'd rather have a QB who is "helping his team win" like Justin Fields than a quarterback with a lot of hype like Lawrence.
Yeah, this is a confusing one. I don't know if we're all on the same page with Johnson as far as what "hype" means. I think I see what he's getting at, though: the hype around Lawrence should be tempered because the level of hype he's receiving is reserved for those who are talented and winning football games. Which makes some sense!
The way Johnson went about arguing that point does not make sense. Even after watching it a few times I still don't really get what he was trying to ask Orlovsky about the different quarterbacks that could have gone No. 1. I imagine that many of our reactions while watching were very similar to Orlovsky's real-time reactions.
The bottom line is that Lawrence shouldn't be punished for his team's record, just as guys like Mac Jones shouldn't be elevated for being on a competitive team more than they deserve. Lawrence is easily the most talented rookie in the class. That is not hype, it is fact. Perhaps the Jacksonville franchise face will make a believer out of Johnson yet.