Keyshawn Johnson Goes Off on 'Fake' NFL Executives and How They See Lamar Jackson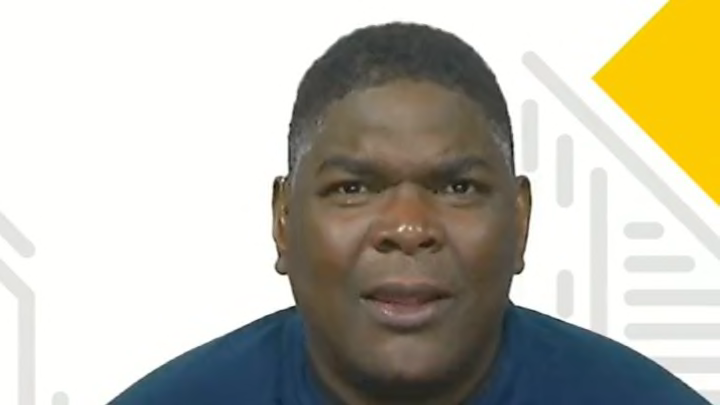 Keyshawn, JWill & Max have set the bar for this week's sports debates at an attainable height. By 7:24 a.m. ET they had produced a segment on Lamar Jackson that will make your brain hurt and disseminated it across their social platforms.
It all started when NFL insider Jeremy Fowler shared some findings from years of research into what teams think about the quarterback position. He had the audacity to say that decision-makers do not see Jackson as a top-five or top-six option at the position league-wide. Which is, it can't be stated enough, the general consensus found while asking around, and perfectly reasonable when one remembers that Patrick Mahomes, Josh Allen, Joe Burrow, Aaron Rodgers, Jalen Hurts, Justin Herbert and maybe Trevor Lawrence exist as potential options.
Keyshawn Johnson couldn't believe what he's hearing somehow, even though this is far from revelatory information. He says heads are going to roll. Like, everyone's head. Because he claimed that everyone who thinks this — seemingly a majority of NFL front offices — are going to be fired.
Fowler got a bit meta by informing Johnson that teams don't see Jackson the way the media sees Jackson. "And teams are stupid," Johnson responded. "Because at the end of the day, they gotta be out of their damn minds. That's crazy to me."
Here's where things get a bit wild. Johnson went on to suggest that Fowler's deep roster of sources at the executive level have all somehow come to the wrong conclusions and are nothing more than imposters.
"It's not you, it's the people that you're speaking to that I would call uninformed, fake executives that think they know what they're looking at. This is why it drives me crazy when I hear someone like you — and it's not you, as they say 'don't kill the messenger,' you're just sending the message — these individuals that make these decisions, that sit up and say 'well he's not a this and he's not a that' it's like he beat your head in every single time you play against him."
Okay, let's take a deep breath here. Lamar Jackson is really good. No one denies this. He also beats people's heads in with such regularity that he has never won a postseason game. And sometimes you don't have to play him because he's injured. It's not an egregious slight or attack on his character to suggest he's the seventh- or eighth-best quarterback in the NFL. Because he's not the first or second or third or even fourth-best. These lists are all quite unofficial anyway, mirroring the No. 1 Dad vs. World's Best Dad debate from the Seinfeld mugs.
There's good news and bad news here. There's unlikely to be a widespread purge of front offices because their inhabitants have collective opinion on Jackson they're probably in no position to act on anyway. But the long arc of history proves that these people ultimately lose their jobs eventually.