Keyshawn Johnson: Kansas City Chiefs Are the Best Team in AFC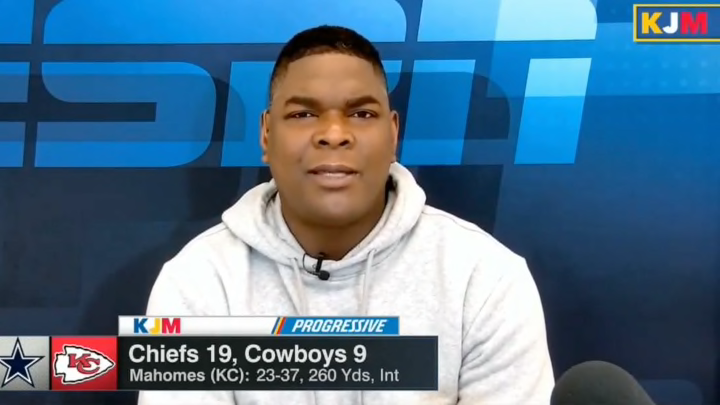 Keyshawn Johnson /
This past Sunday was yet another exercise in exhibiting why there are actually no good teams in the NFL. The Packers lost to the Vikings on a last-second field goal in an unexpected reversal of roles. The Titans got stomped by the Texans. The Bills were obliterated by Jonathon Taylor and the Colts. The Seahawks lost to Colt McCoy.
Then, of course, there was the Cowboys, losing in an ugly fashion to the Chiefs. Normally, losing to Kansas City at Arrowhead Stadium isn't shameful. But the Cowboys did not lose because Patrick Mahomes and the rest of the offense was unstoppable. They lost because their offensive line couldn't handle the Chiefs' defensive pressure after the unit looked like one of the worst in the NFL as recently as three weeks ago. In a 19-9 loss, Dallas only needed one or two more possessions to end up in points to have a shot at winning, and they couldn't get it done in part due to the myriad injuries suffered to important positions.
This was a game that said a lot more about Dallas' depth than it did about Kansas City's dominance. Keyshawn Johnson, though, said this game proved the Chiefs are the best team in the AFC and if they land homefield advantage come playoff time, they'll be returning to the Super Bowl.
I am not so sure this is the game people should point to as proof the Chiefs are once again top of the class in the conference. It was a reassuring win for Chiefs faithful, I am sure; they won ugly against a good team, and to this point the Chiefs have only won ugly against lesser teams. It was the first evidence we the people have received that Kansas City can still win against top-tier competition when Mahomes isn't immaculate.
But they did not win against a fully loaded Cowboys squad. They won against Dak Prescott and a bunch of backups. A win is a win and nobody is taking that away from the Chiefs, but such things have to be taken into consideration when arguing who is the best team in the conference.
The Chiefs have been slowly but surely gaining momentum. Yesterday was far and away the team's best defensive performance of the year. Mahomes didn't play well but he and his teammates slammed the door shut with a long drive when it was winning time. But it still doesn't feel like they're back to their old selves, and still have enough flaws to question if they're cream of the crop material.
Then again, nobody in the AFC seems to want the No. 1 seed. At this point in the year, it's anybody's guess who really is the best team in the conference.