ESPN Catches Vikings Coach Kevin O'Connell Telling TJ Hockenson to 'Go Down'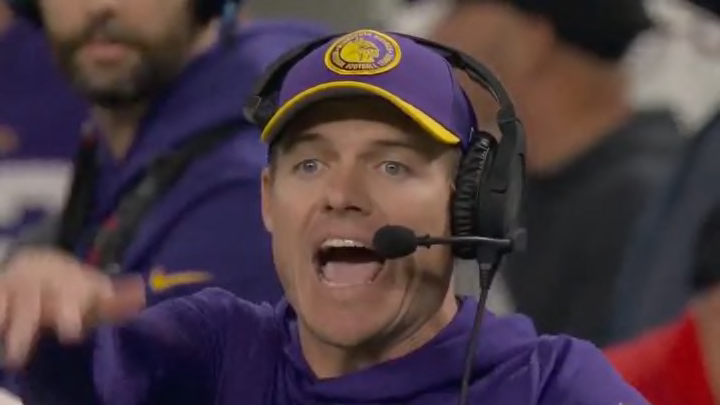 The Minnesota Vikings played the San Francisco 49ers on Monday Night Football in Week 7. The Vikings came into the game with a 2-4 record while the 49ers had looked like the best team in the NFL at times this season. Yet the Vikings took a 7-0 lead and were looking for more in the second quarter when ESPN caught Vikings coach Kevin O'Connell telling tight end T.J. Hockenson to "go down" to buy the team some time.
Facing third-and-10 from the Niners' 32-yard line, Cam Akers took a screen pass all the way to the two-yard line. As the Vikings were scrambling to get organized on the goal line, Hockenson appeared to be limping towards the sideline. That's when O'Connell yelled at him to go down, which he did. Joe Buck noted that ESPN "caught" O'Connell and Troy Aikman said that it was "buying some time."
Again, Hockenson looked like he had a limp, so it doesn't seem like he was faking an injury. However, it was smart for him to go down and let trainers come out so that the clock would stop and the Vikings would essentially get a free timeout.
The Vikings ended up settling for a field goal on the drive.
UPDATE: Hockenson went down again in the third quarter.