Kevin Durant's Laugher Signals the Beginning of a Bright New Future for the NBA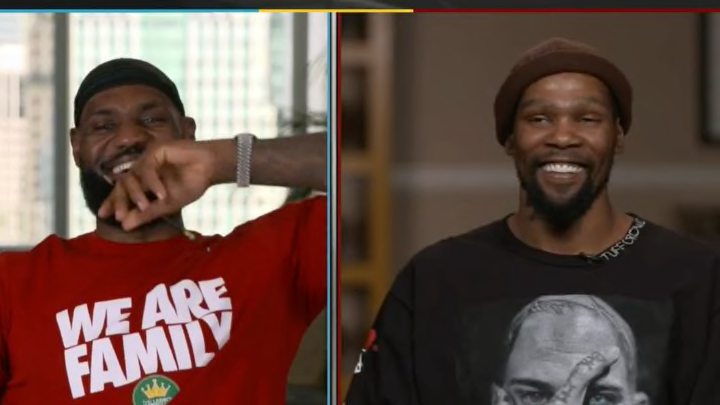 LeBron James and Kevin Durant /
The long anticipated James Harden-Ben Simmons trade finally went down on Thursday. With the two stars changing teams, the NBA can finally breathe a sign of relief. There should be a renewed feeling of excitement as the league can now move forward from two of its darker storylines. And the thing that should let everyone know it's OK to be happy again was Kevin Durant finally laughing about the trade on Inside the NBA.
Hours after the trade went down, Durant appeared on TNT alongside LeBron James to draft the NBA All-Star teams. Both players took turns passing on Harden as the elephant in the room grew in size, culminating in Durant picking Rudy Gobert with the next-to-last pick. As Durant explained his selection, James started to smile and hid his face as the Inside crew laughed.
Durant, forever a serious basketball player who only cares about basketball, was able to keep it together through the pick and kept a stone face for 40 seconds before a small smile began to appear. By the time Charles Barkley joked that Harden was going to rub some Icy Hot on his hamstring and be ready to play in his next game, Durant finally broke. That was it. The dark clouds were gone. The NBA may laugh again.
The change of scenery from Philly to Brooklyn will hopefully be just what Ben Simmons needs to return to the basketball court. Say what you want about his jumper, he's a uniquely talented player and it's much more fun to watch him play than debate when and where he'll play again.
Simmons also resets the Kevin Durant era in Brooklyn. Who knows what will happen with Kyrie Irving - the other least enjoyable NBA storyline this year - but the Nets now have the most unique twin towers in NBA history locked up for the next four years. They have a 6-foot-10 point guard and and a 7-foot shooting guard. One is a gifted passer, one is perhaps the most gifted scorer of all-time. And they can both protect the rim.
Meanwhile, in Philadelphia, if James Harden is healthy, he has another chance to make the NBA Finals after coming up just short with Dwight Howard in 2015 and Chris Paul in 2018. Injuries and Durant's big feet also derailed a possible Finals trip last summer. Will Harden and Joel Embiid be the teammates who can finally help each other cross the finish line? Seems more interesting than if Harden had been able to make things work with Durant and an unvaccinated Irving.
These are much more interesting storylines than the ones they're replacing. They are borderline fun. That tension hanging over these teams and the league? Gone. It is finally ok to laugh now that it's all behind us. If Kevin Durant can do it, anyone can.