Why Do People Wear Crazy Hats to the Kentucky Derby?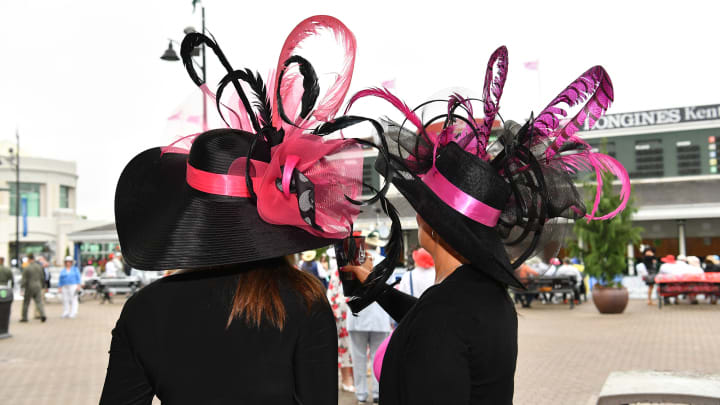 Kentucky Derby 144 - Atmosphere / Dia Dipasupil/GettyImages
The dictionary (website) defines a hat as "a shaped covering for the head, usually with a crown and brim, especially for wear outdoors." That's never been more true than it is at the Kentucky Derby when people flock to Churchill Downs to view the most exciting two minutes in sports. All it takes is a quick look at the crowd to realize that horse racing fans love their gaudy MFing hats, but why? What makes the Derby the ultimate hataclysmic event?
Like most things in horse racing, it comes down to tradition. The official Kentucky Derby website has a fairly lengthy explainer on the hats in a section titled "What to Wear."
Part Southern tradition, part spectacle, the Kentucky Derby hat parade is much of what makes "The Greatest Two Minutes in Sports" one of the greatest people-watching events in the world! From the fantastic to the sublime, there are no rules or limits when it comes to choosing your Derby hat.

Wearing a hat to the Kentucky Derby is believed to bear good luck! The long-established fashion was started by the women, however, over the last few years, many men have taken part in the tradition as well. Wearing a hat is much like getting into costume, you might be pleasantly surprised to see what type of character you become. From the fantastic to the sublime, there are no rules or limits.

Within the seated sections of Churchill Downs, you will find hats of elegance and style. Generally speaking, women wear wide-brimmed, "Southern Belle" inspired Kentucky Derby hats. The hats can be decorated with flowers, feathers, bows and ribbons of any color to express creativity and individuality.

In the Churchill Downs Infield, hats are a bit more eccentric! You will see hats in all shapes and sizes, as well as some hats exuding humorous themes!
It's the use of "exuding humorous themes" instead of "funny hats" that lets you know how classy this event truly aspires to be. Hats are tradition, competition, and self-expression. It's the Met Gala for heads.