Kayvon Thibodeaux Suffers Knee Injury on Cut Block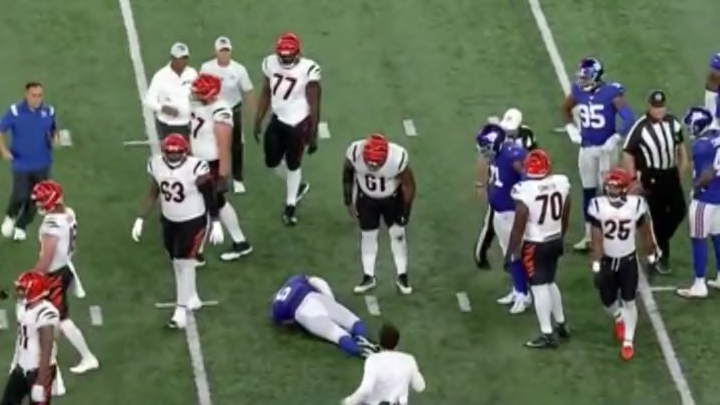 A lot is expected of New York Giants rookie defensive end Kayvon Thibodeaux. The fifth pick of the 2022 NFL Draft is a huge piece in the franchise's rebuilding plans and has the skills to make a big impact as a rookie. Well, on Sunday night those hopes may have been dashed. The Oregon product suffered a potentially serious knee injury during a preseason game against the Cincinnati Bengals.
In the second quarter of the contest, Thibodeaux was hit with a cut block by Bengals tight end Thaddeus Moss. Moss nailed Thibodeaux in the right knee and the rookie went down in a heap and looked to be in a lot of pain.
Here's the video:
Thibodeaux was on the turf for a while and a cart was called for him. He wound up waving it off and walking off the field and into the medical tent under his own power. He appeared to be in good spirits on the sidelines So maybe that's a glimmer of hope for Giants fans. He did wind up back in the locker room. He did have a pronounced limp, and the Giants later ruled him out for the game.
The Giants were one of the big winners during the 2022 NFL Draft by landing two of the best talents in the class in the first round. Thibodeaux was arguably the top pure talent in the class and New York got him at No. 5, and they also snagged Alabama offensive tackle Evan Neal at No. 7. Neal is an absolute beast with a ton of upside.
Hopefully for the Giants, Thibodeaux's injury isn't too serious.